Film/VFX Character Art (Rendered) Winners Interview — Untamed: When Animals Ruled the World
1st place Untamed: When Animals Ruled the World – Film/VFX Character Art (Rendered): Khoi Nguyen
For this interview we're joined by Untamed: When Animals Ruled the World Film/VFX Character Art (Rendered) winners Khoi Nguyen, Javier Zuccarino, and Thành Nguyễn. Discover how they brought three character art concepts to life through some incredible 3D work!
See all Film/VFX Character Art Submissions
---
2nd place Untamed: When Animals Ruled the World – Film/VFX Character Art (Rendered): Javier Zuccarino
Taking on the Challenge
Whether it's your first or fifth time entering, everyone is welcome to join an ArtStation Challenge. Khoi, Javier, and Thành all had different past Challenge experiences:
Khoi: I had participated in ArtStation Challenges a few times, but never finished on time. Maybe I wasn't good enough the previous times, but this year's theme was very interesting for me so that's probably what motivated me to complete it.
Javier: It had been a long time since I joined an ArtStation Challenge so I wanted to finish an artwork and try to learn something new (in this case, a full character with fur). I liked the theme, but the concepts really inspired me to join.
Thành: I have always wanted to join a Community Challenge. It seemed like a great opportunity to practice everything that I've learned in the past year, push skills as far as I could, and also tackle things I'm not experienced with.
3rd place Untamed: When Animals Ruled the World – Film/VFX Character Art (Rendered): Thành Nguyễn
Behind the Submissions
Khoi, Javier, and Thành brought three unique characters to life over the course of the Challenge:
Khoi: I really liked the 2D concept that I chose, but there were a lot of challenges when converting it to 3D: the posing, the expression, the feeling of the original concept, and especially the fur. In the end I decided to change its style to be realistic, dusty, and a bit dark. My inspiration mostly came from the Black Myth: Wukong game.
Javier: I choose a concept from Yue Hai because I was sure that I wanted to do a full character with fur, and this concept was great for that. Also, I really liked the pose; the style was perfect for a cinematic character.
Thành: The first thing that came to my mind when I saw the Challenge theme was the image of Mad Max's desert with animals in it. That soon became about the raccoon, as I thought they are more cunning and wilder than others. Through the familiar look of the raccoon and its outfit, I hoped that I could tell a story about the future that we could leave for our children.
1st place Untamed: When Animals Ruled the World – Film/VFX Character Art (Rendered): Khoi Nguyen
Reaching the Finish Line
ArtStation Challenges push both technical and time-management skills. Our three interviewees have advice for staying motivated and on target:
Thành: It was not easy to keep myself motivated throughout the Challenge. For me, it's like playing a game. You're beaten by the boss again and again, but once you beat the boss, you get an overwhelming feeling of accomplishment and earned experience. I guess that addiction kept me moving forward.
If things get too hard, take a step back and relax, then fight on later.
Javier: Colleagues from work entered so that was a plus to stay motivated. Music is a big motivation too. I usually listen to original soundtracks related to the character and that helps me to visualize it in action, make up stories, and see the character 'alive.'
It is very important to have a clear picture of your end result in mind. If you really like that picture you'll surely do well.
Khoi: I had a lot of fatigue when facing the deadline of the contest. With such projects, it usually takes me 3-4 months to complete. I had to focus as much as I could, working 12-15 hours a day to keep up with the deadline. The good thing is that when you put a lot of love into the work, and see the character improve day by day, it gives you the motivation to keep making it better.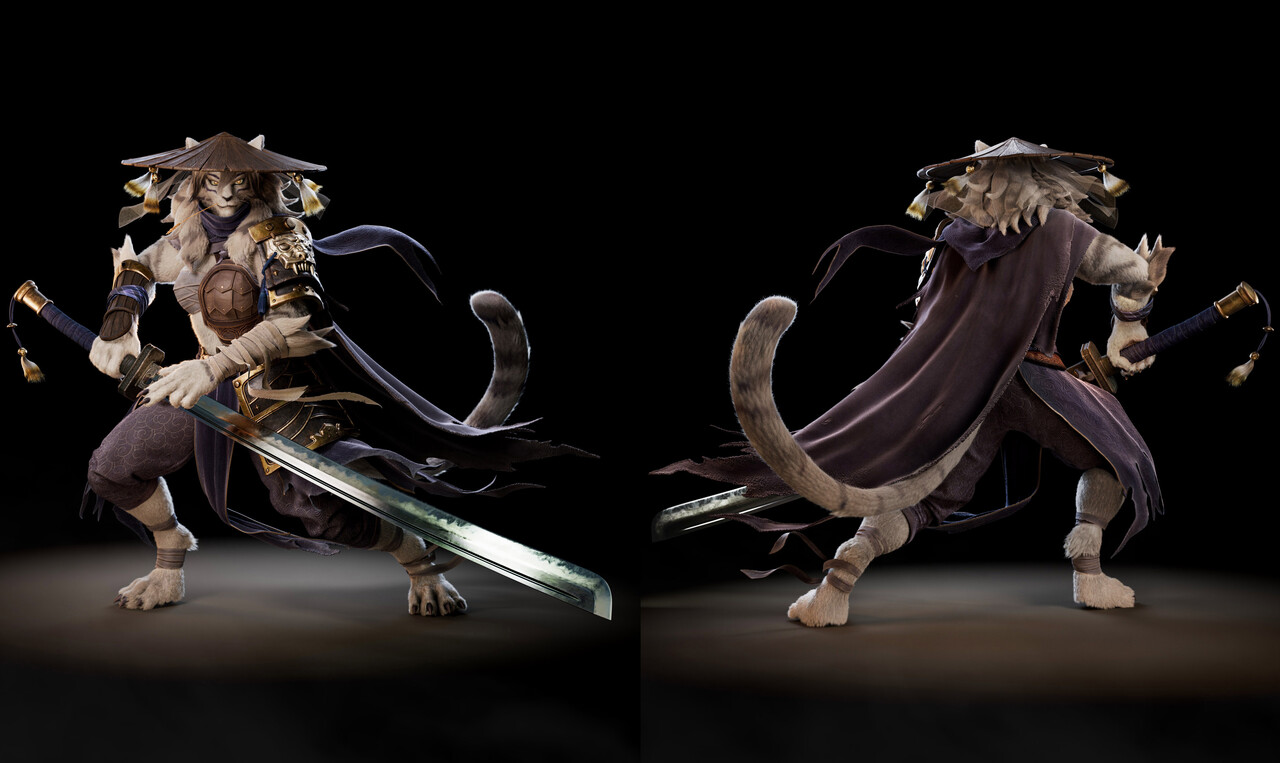 2nd place Untamed: When Animals Ruled the World – Film/VFX Character Art (Rendered): Javier Zuccarino
Advice for Future Challengers
Planning to join a future ArtStation Challenge? Here's some helpful advice from these three talented artists:
Thành: This Challenge is a good opportunity to practice your skills, and learn new things through other artists' feedback and work in progress.
Khoi: Pick an artwork that you like and try to stick to it. Allocate reasonable time between stages and improve previous stages if there is time. And good luck!
Javier: References are key. Have a clear goal in your mind about what you want to achieve. If that image is really clear in your mind I assure you, you will enjoy the process and survive the deadline.
3rd place Untamed: When Animals Ruled the World – Film/VFX Character Art (Rendered): Thành Nguyễn
---