Ancient Civilizations: Award Winners and Honourable Mentions
ArtStation's second Community Challenge, Ancient Civilizations: Lost & Found, launched over three months ago with new industry-based challenge hosts and the very popular option for production category entrants to base their submissions on viz dev categories. Like our first community challenge, The Journey, the submission process was entirely open, and registrations, submission views and likes were 20-40% higher for our second community challenge. 3,855 artists took up the challenge with some artists putting in hundreds of hours into their submissions, and showing great community spirit with their feedback and encouragement.
A dedicated all-star judging panel took on the difficult task to sort through the very strong entries in all categories. After many hours of judging, some judges also shared their thoughts on their favorite entries (below). Huge thanks to Sparth (Art Director Halo, 343 Industries), Raphael Lacoste (Franchise Art Director, Assassin's Creed), Renaud Galand (Lead Character Artist Overwatch, Blizzard Entertainment), Devon Fay (Senior Environment Artist, Riot Games), Andrew Maximov (Lead Technical Artist, Naughty Dog) and Efflam Mercier (Concept Artist, Riot Games). The winners each receive a complete virtual ArtStation Challenge trophy, designed with meticulous attention to detail by industrial designer Ivan Šantić (check out the process of designing the Awards).
We'd also like to recognise the challenge hosts for their dedication to helping entrants every day of the challenge with feedback and encouragement. Thank you to: Adam J Middleton (Weta Workshop), Donovan Valdes, Randall Mackey, Satoshi Arakawa (Daybreak Games), Mathew O'Halloran (Ubisoft Massive), Victoria Passariello Fontiveros, and Tiberius Viris (Sony Pictures Imageworks).
We're very pleased to present to you the 1st, 2nd and 3rd place winners in each of the categories along with the Honourable Mentions.
Viz Dev categories
Ancient Civilizations – Keyframe Concept Art
1st place Keyframe Concept Art: Joakim Ericsson
Devon Fay: "The sense of exploration is present for sure. Well executed images."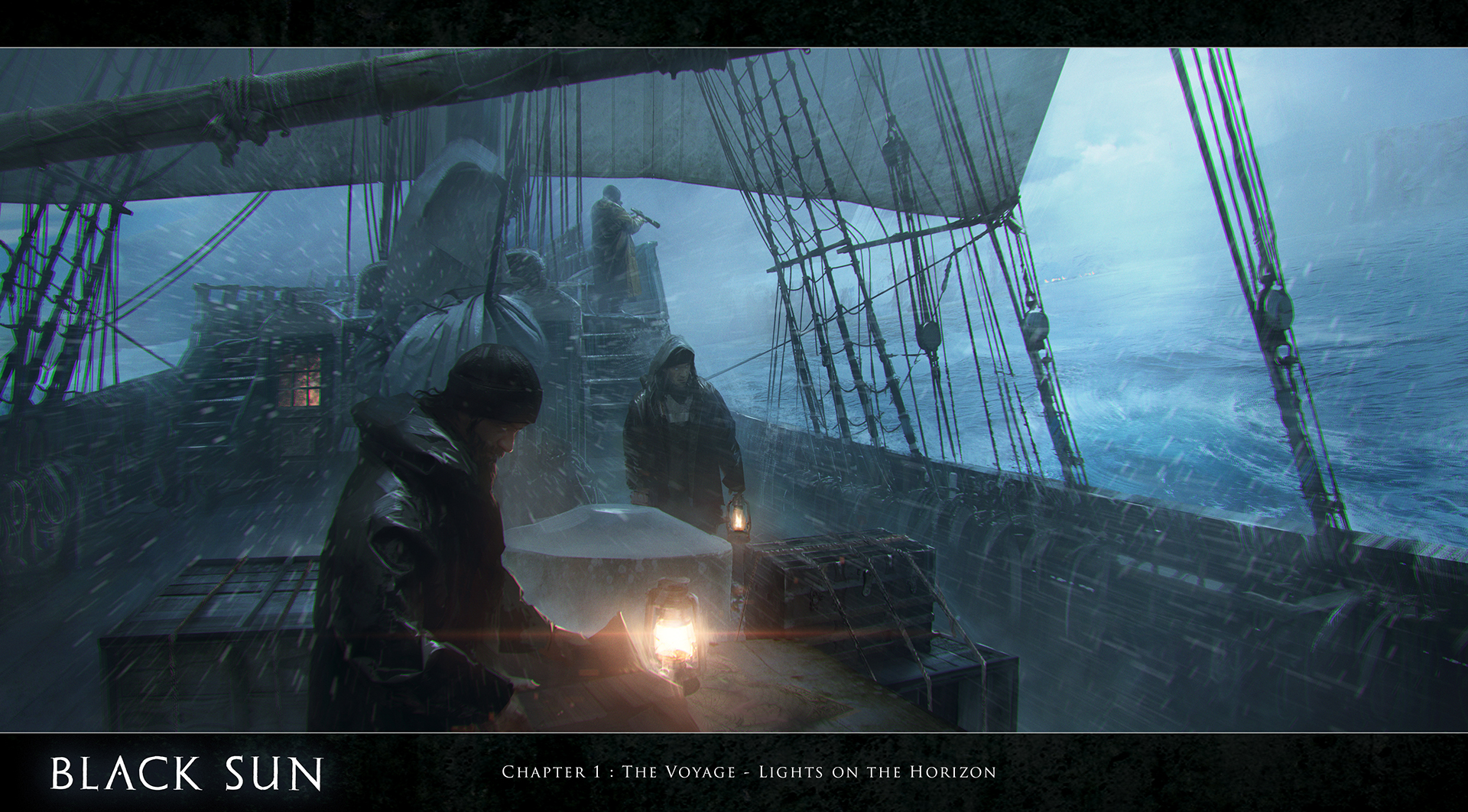 2nd place Keyframe Concept Art: Rebecca Oborn
Randall Mackey: "What a bold choice to come in with a super colorful animated style! Rebecca absolutely nailed the storytelling, the execution and clarity. When is this getting made into a feature length production!?"
Devon Fay: "Beautiful colors and compositions. Every aspect of these images gives you a piece of a bigger story. Left me wanting to know the whole story of this world!"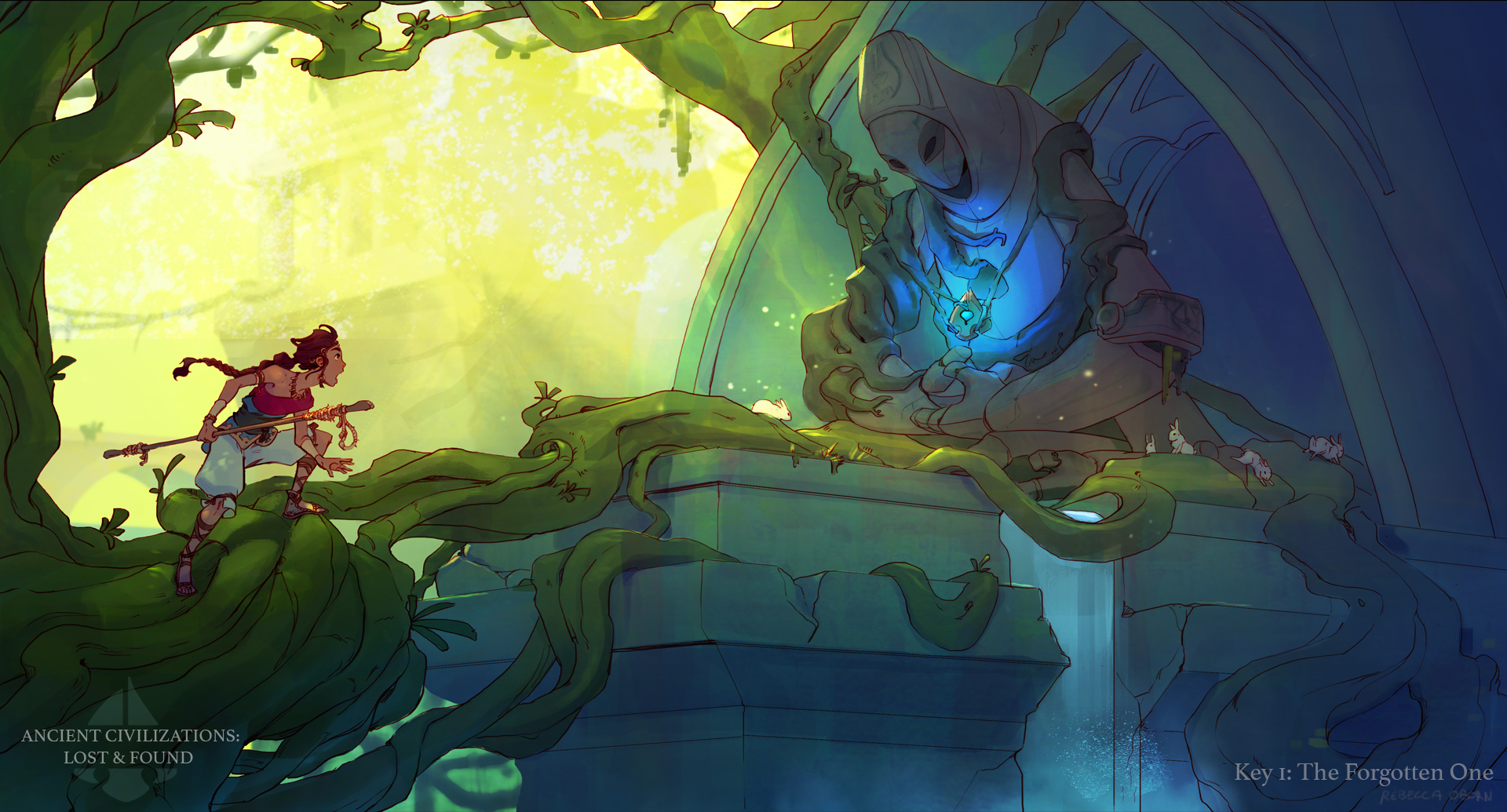 3rd place Keyframe Concept Art: Pablo Dominguez
Sparth: "A tad conventional, but SO effective."
Devon Fay: "The decision to give us the unique tower design as a touchstone was a fantastic choice. The mood and sense of scale are impressive and well done. Fun to get lost in this story."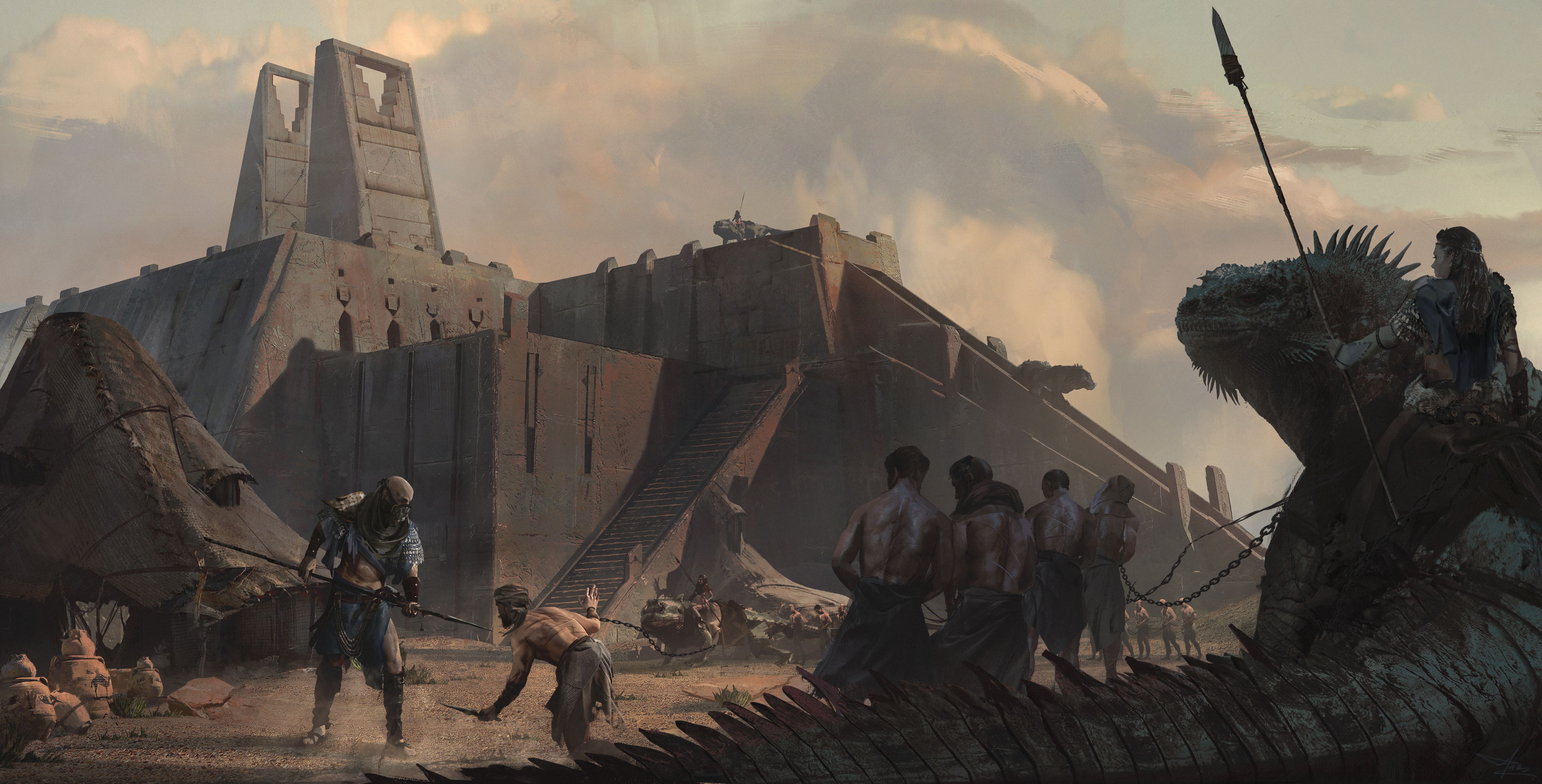 Honourable Mention Keyframe Concept Art: Ryan Richmond
Sparth: "My favorite pieces. Especially the first image. Great vibe and dynamic."

Honourable Mention Keyframe Concept Art: DOFRESH .
Randall Mackey: "Wow! What a great storytelling set of frames. The style and execution is one point, and the color for each frame is absolutely ace! The orange frame when they are meeting the queen is a particular favorite of mine."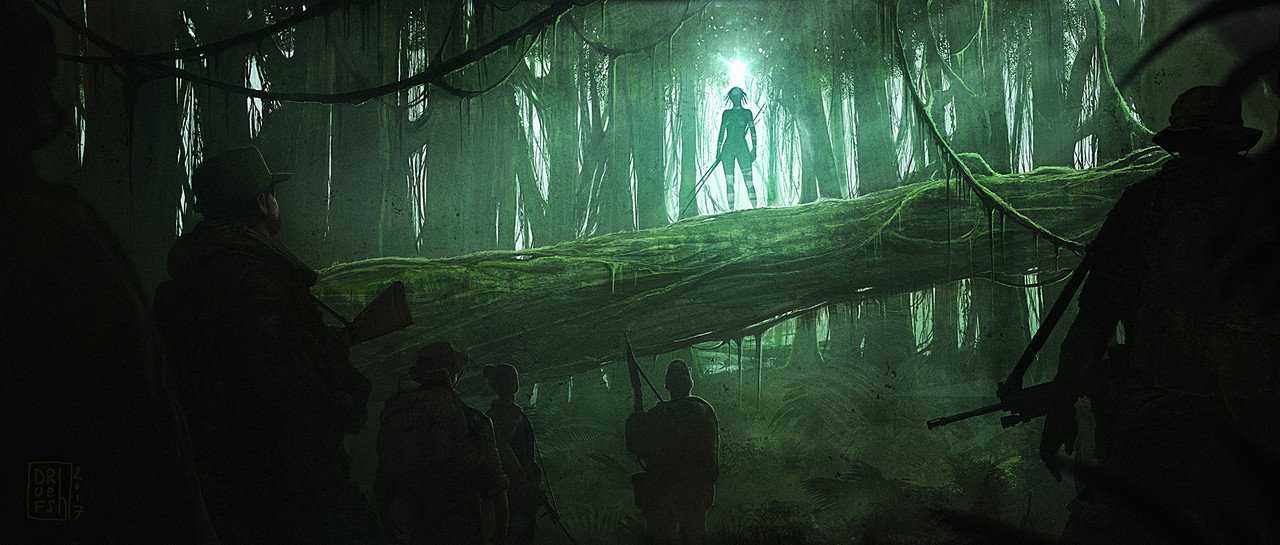 Honourable Mention Keyframe Concept Art: Sergey Avtushenko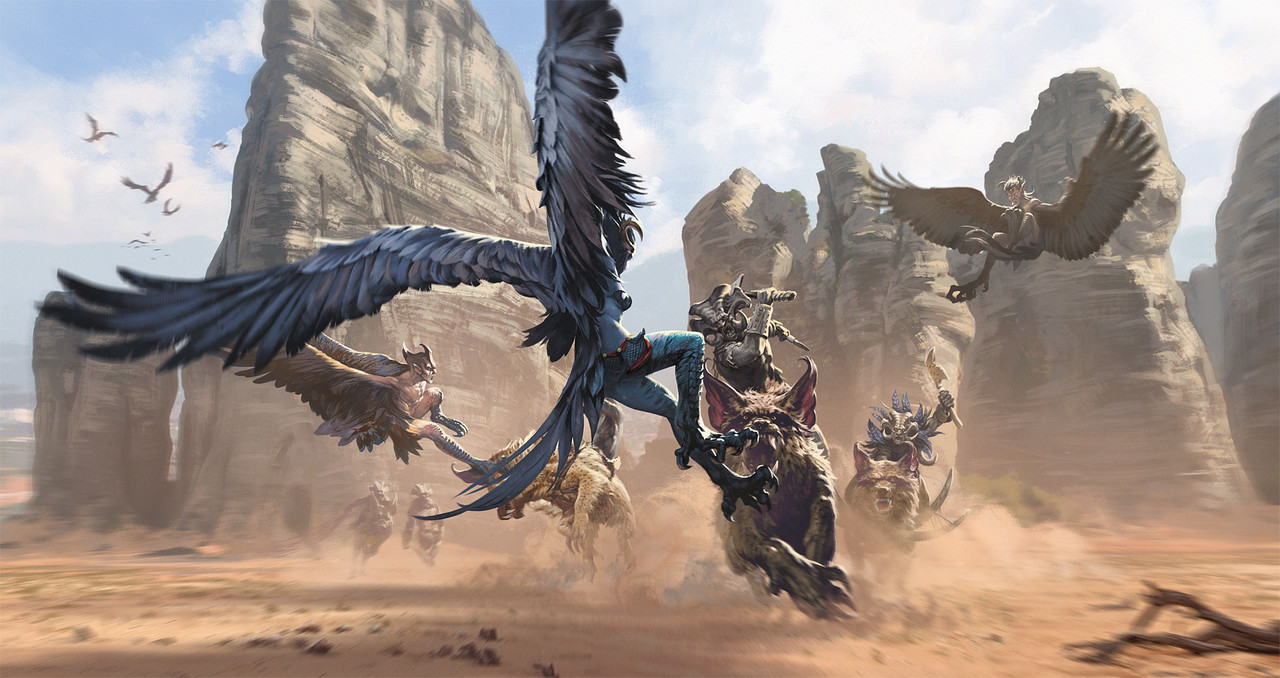 Honourable Mention Keyframe Concept Art: Michael Oberschneider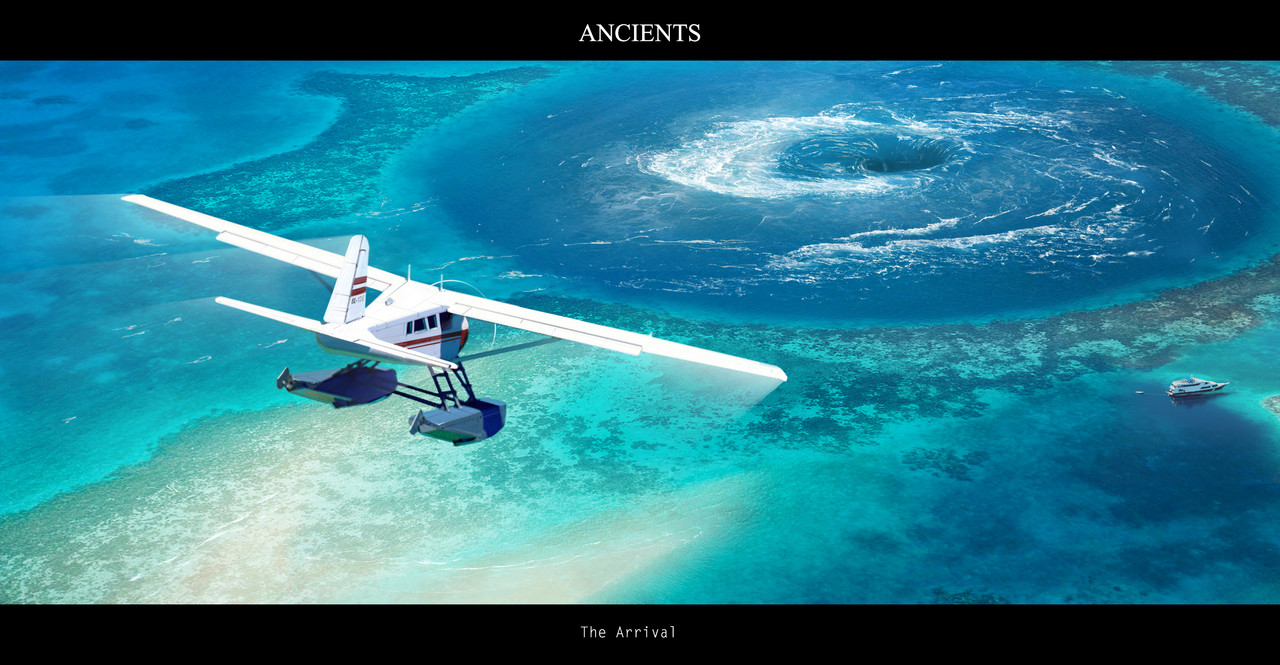 Honourable Mention Keyframe Concept Art: Artur Sadlos
Randall Mackey: "I can only imagine what is happening in these frames (or inside Artur's imagination) with these, but that's something I seem to want to do endlessly! What kind of creature is in the gooey sack behind the explorers in frame #3?!"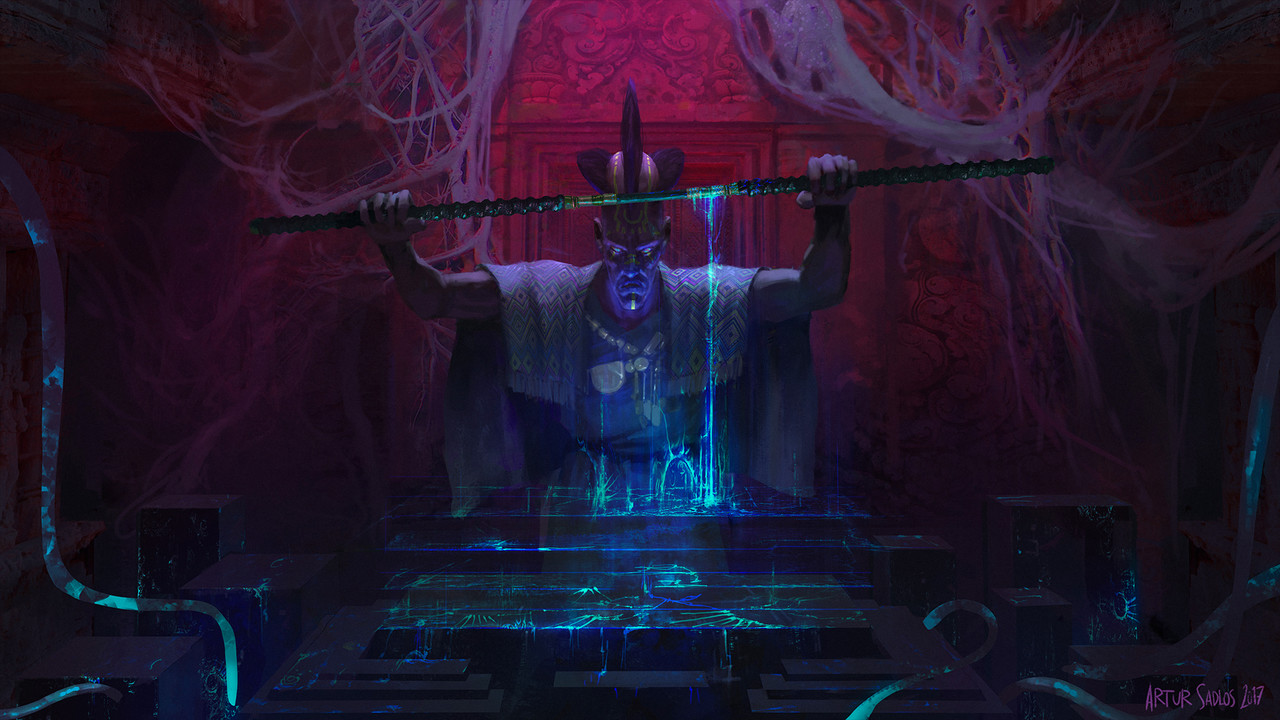 Ancient Civilizations – Character Design
1st place Character Design: Carlyn Lim
Devon Fay: "Builds a unique world just based off these characters. So many great choices to get lost in."

2nd place Character Design: Anastasia Nikulina
Devon Fay: "Great job at mixing some known ideas but putting an interesting twist on them. Enjoyed the mood achieved with the same color scheme overall."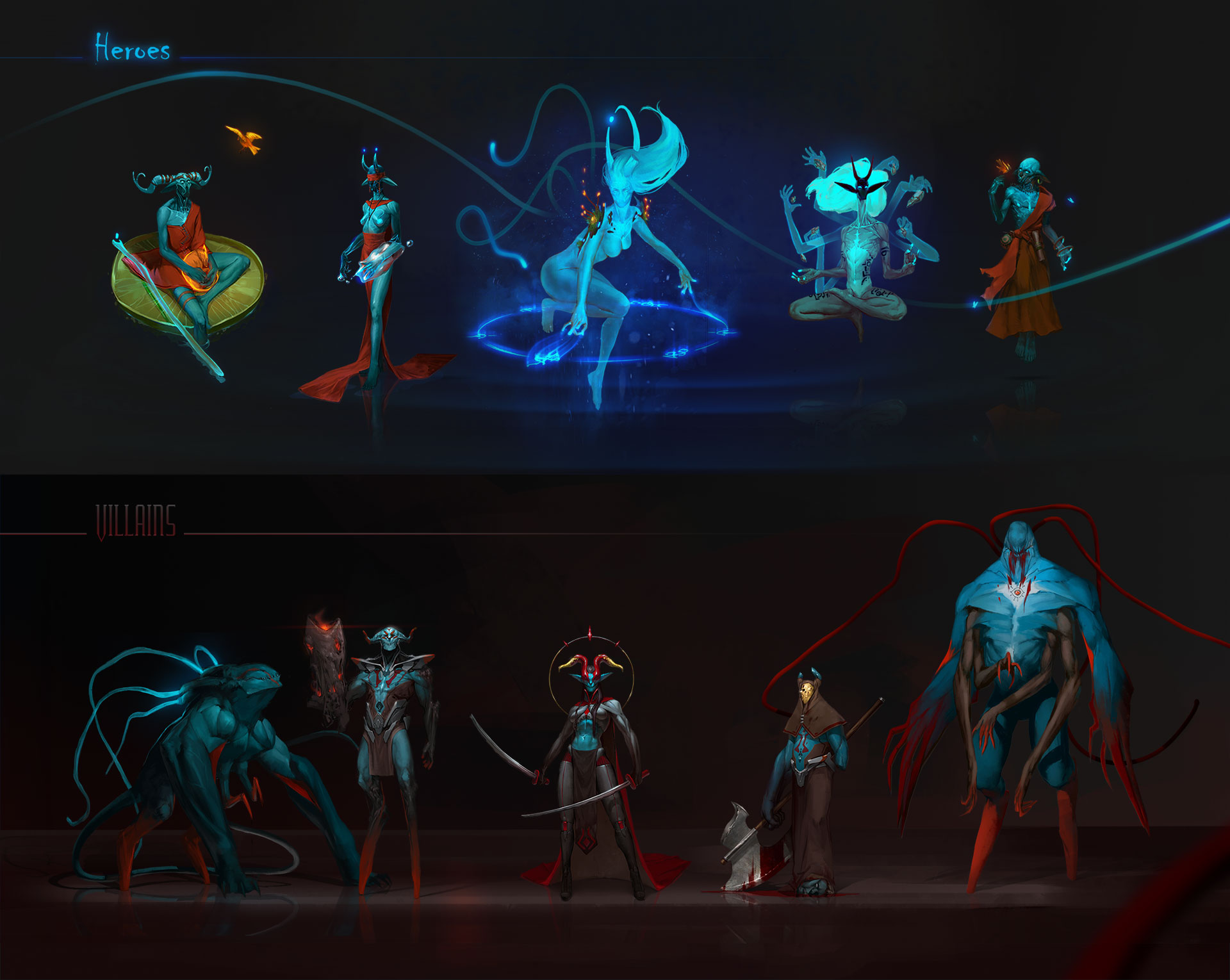 3rd place Character Design: Nadezhda Tikhomirova
Randall Mackey: "What an amazingly fun and colorful line-up of characters. Big shapes, loud colors, clear personality. A ton of fun!"
Devon Fay: "Great job on carving out your unique take on a civilization. Stands out among the crowd, while building a believable interesting world."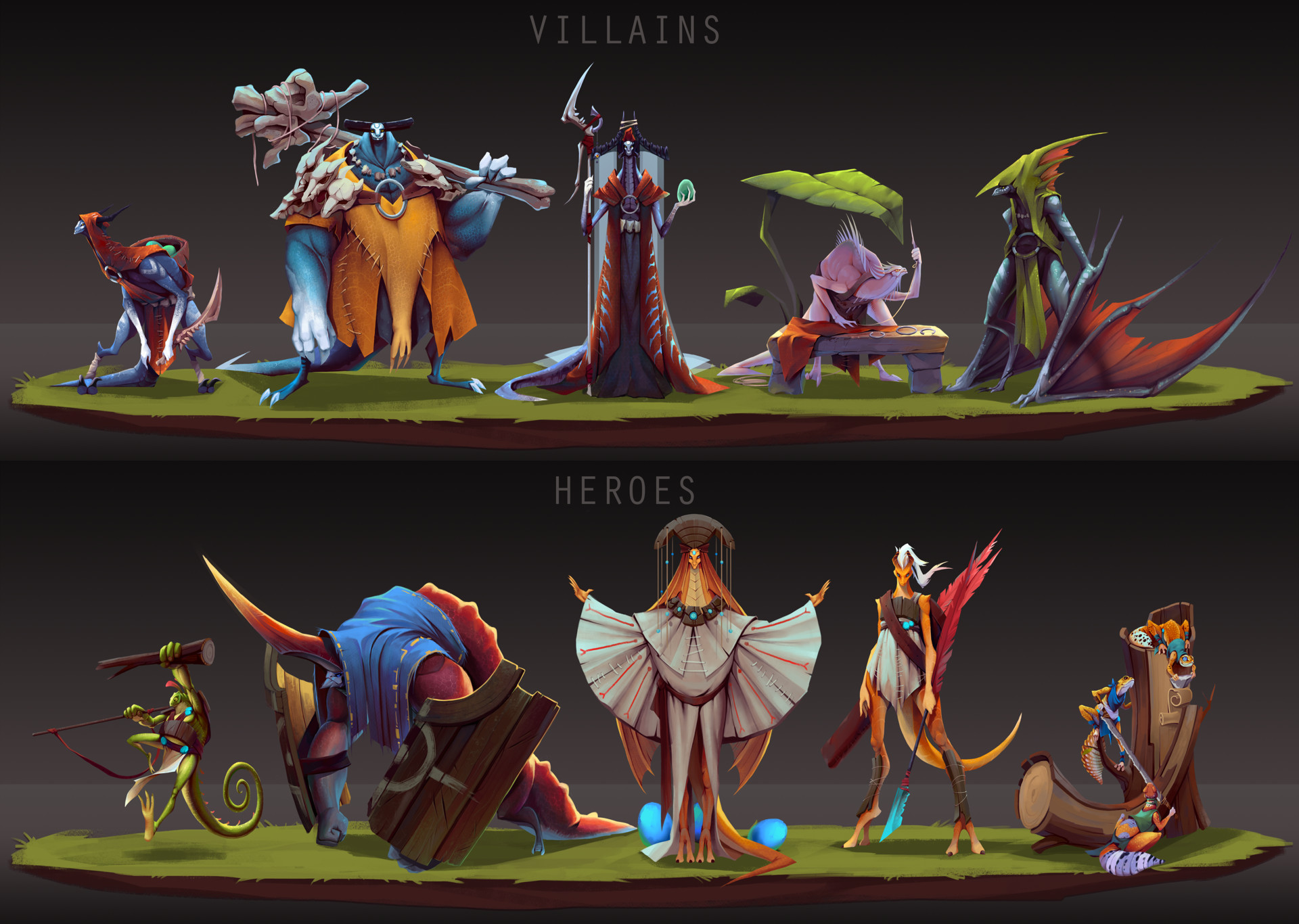 Honourable Mention Character Design: Christophe Young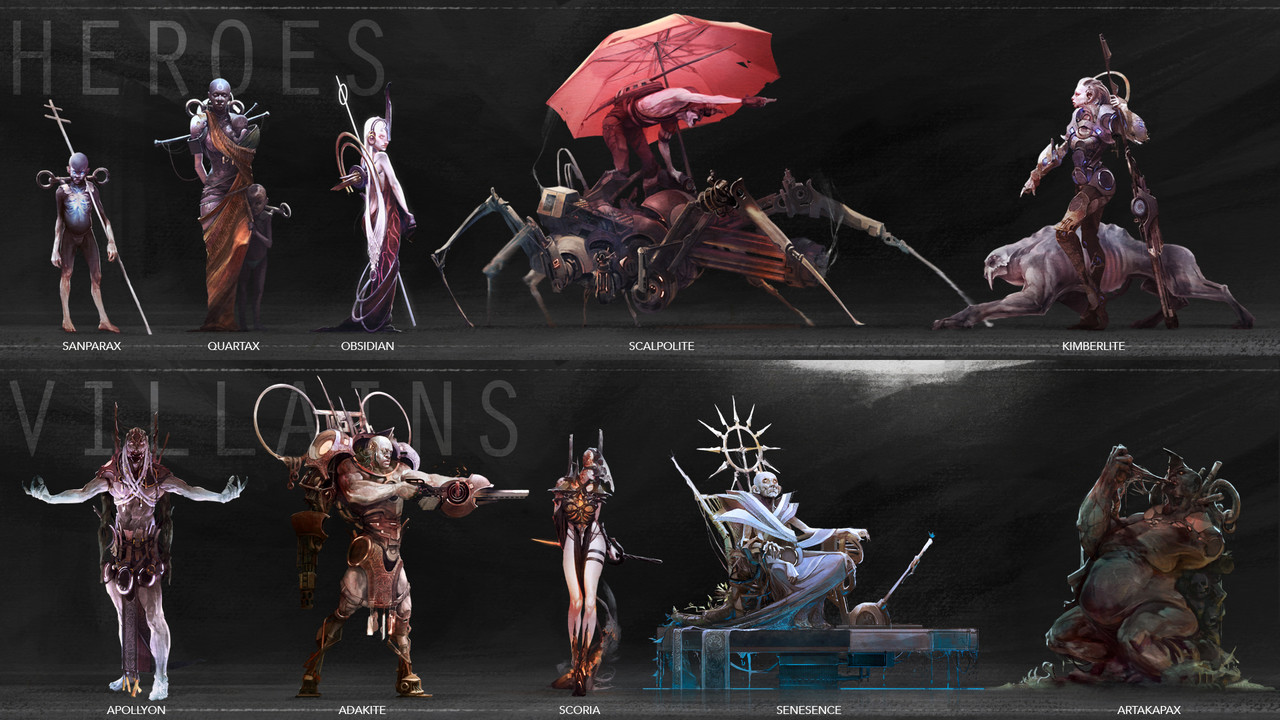 Honourable Mention Character Design: Casper Konefal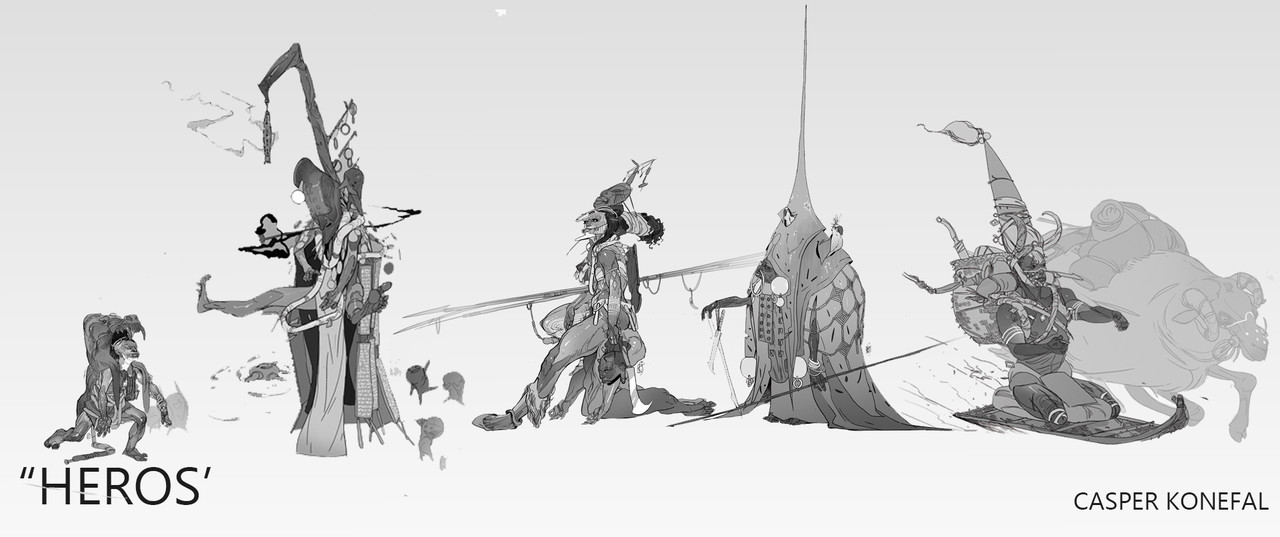 Honourable Mention Character Design: Didier Nguyen
Randall Mackey: "I could say so much about these designs. Really bold choices in the characters and execution. I would have a hard time selecting which one to be in a game. But if I was forced, I would have to go with the Child King riding a Hyena!"

Honourable Mention Character Design: Kenny Jeong
Sparth: "A favorite of mine!"

Honourable Mention Character Design: Oscar Römer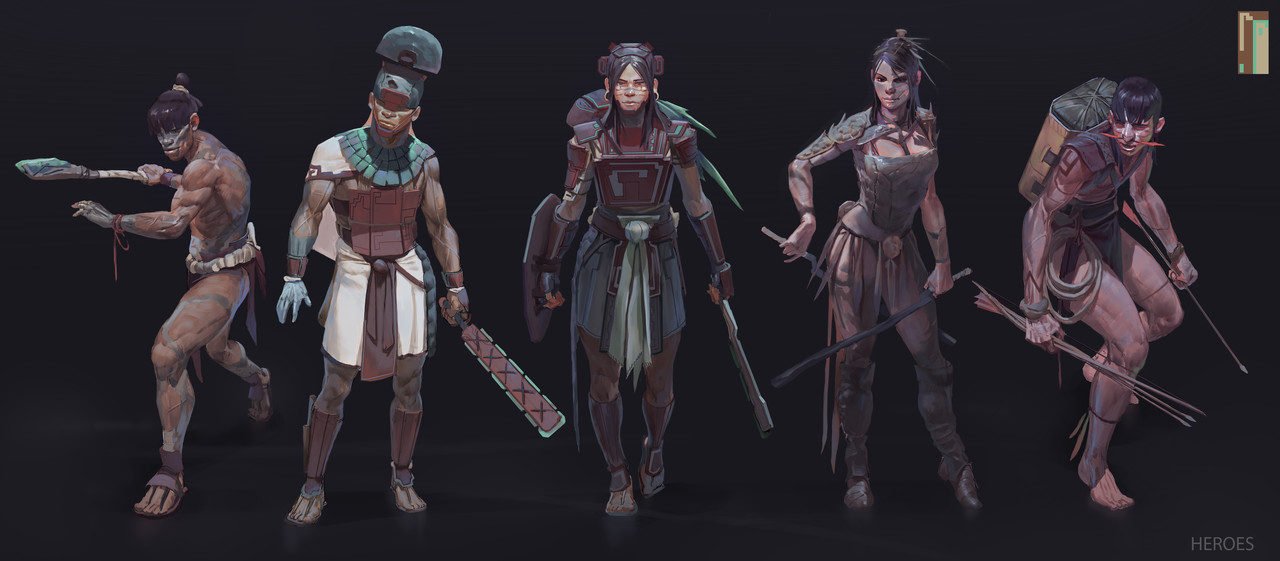 Ancient Civilizations – Environment Design
1st place Environment Design: Leon Tukker
Devon Fay: "Insane sense of scale. Great macro take on the whole look. Clearly hit a nerve with may other artists, inspiring others on their projects."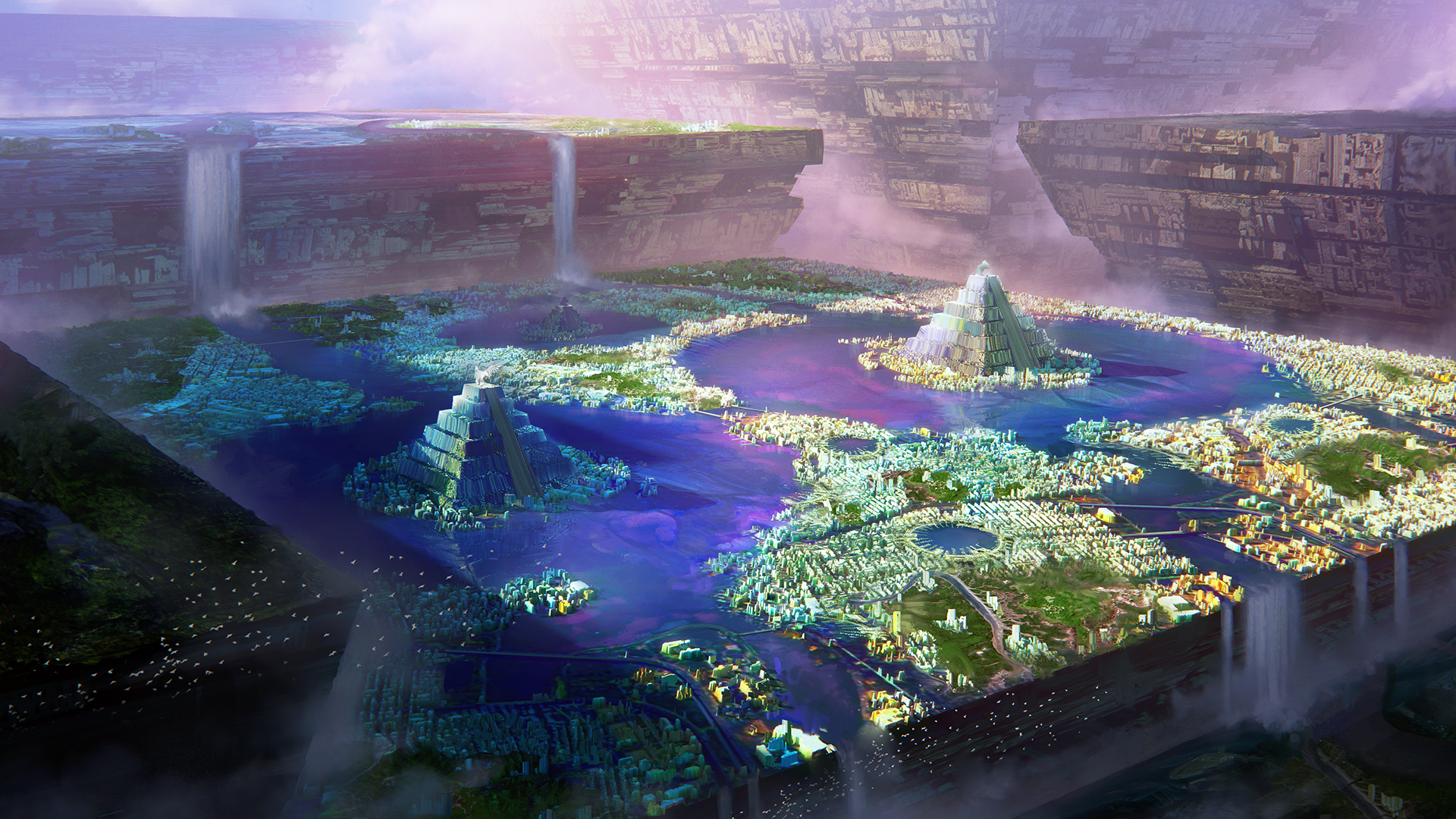 2nd place Environment Design: Ryan Moeck
Devon Fay: "Beautiful colors and depth."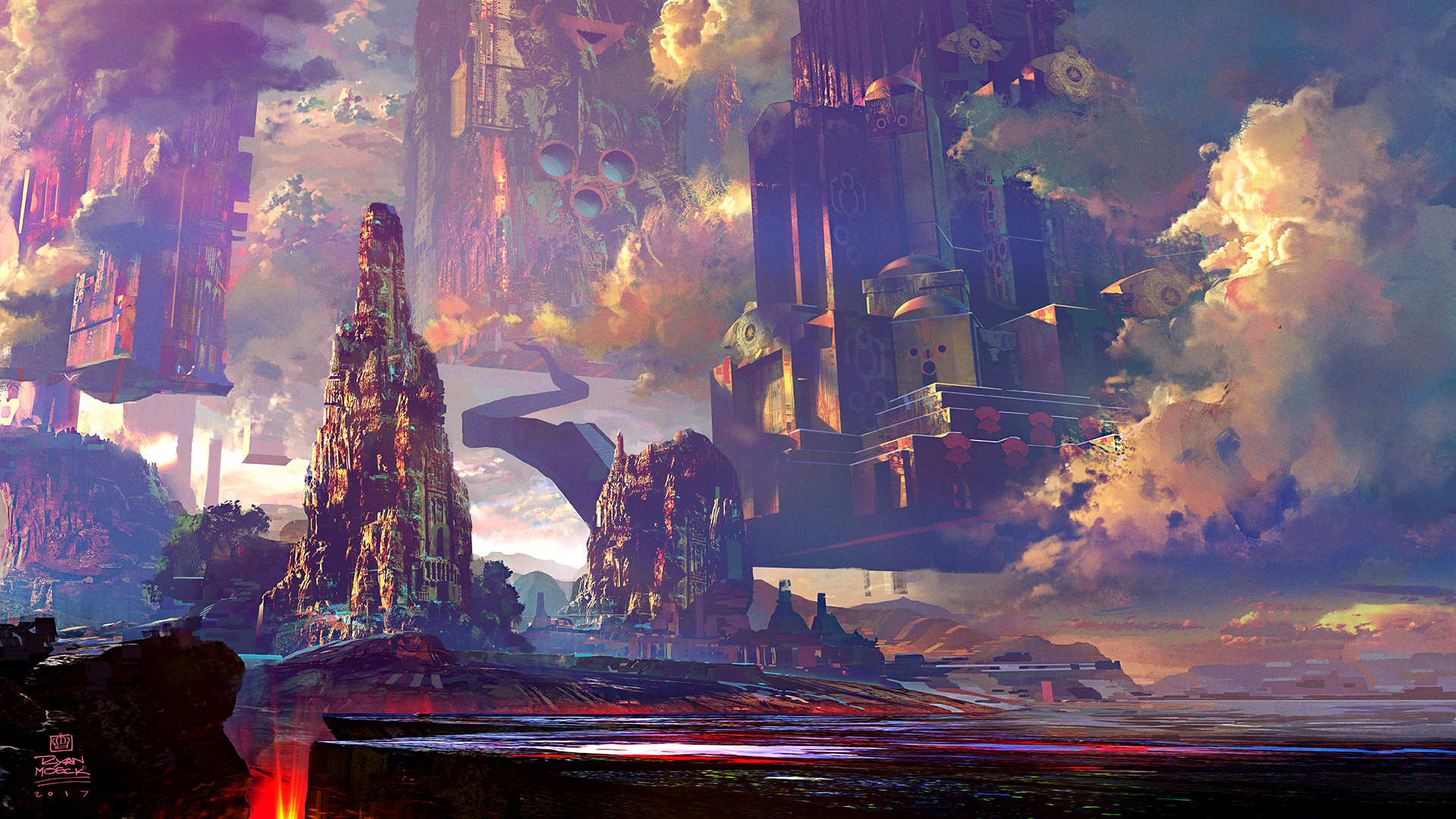 3rd place Environment Design: Jan Sarbort
Devon Fay: "Love the amount of research done and shown for this submission. The attention to detail comes out in the final images."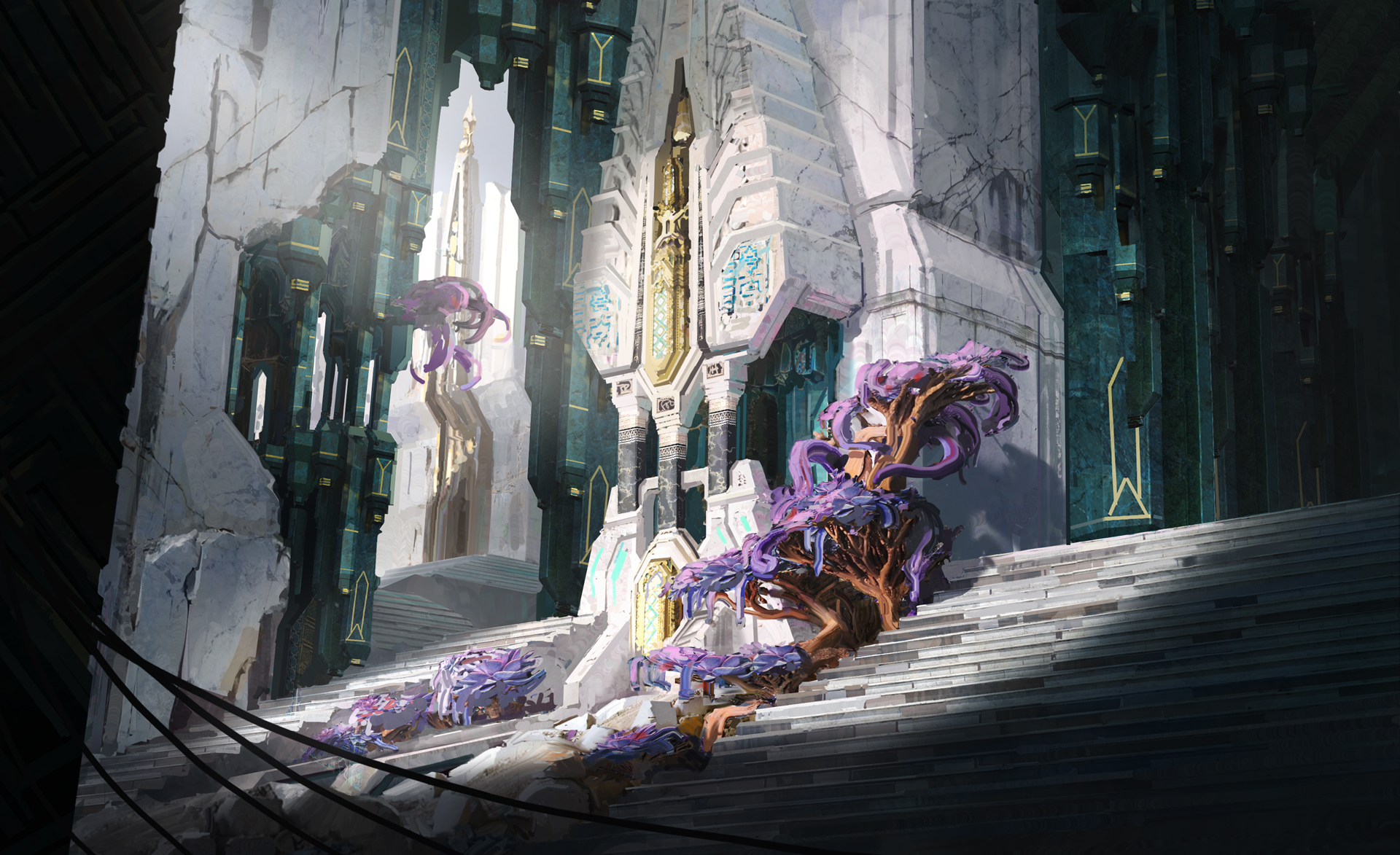 Honourable Mention Environment Design: Marc-Alexandre Robbe
Tiberius Viris: "I think Marc's entry does a fantastic job at capturing the challenge theme with some very good design and presentation."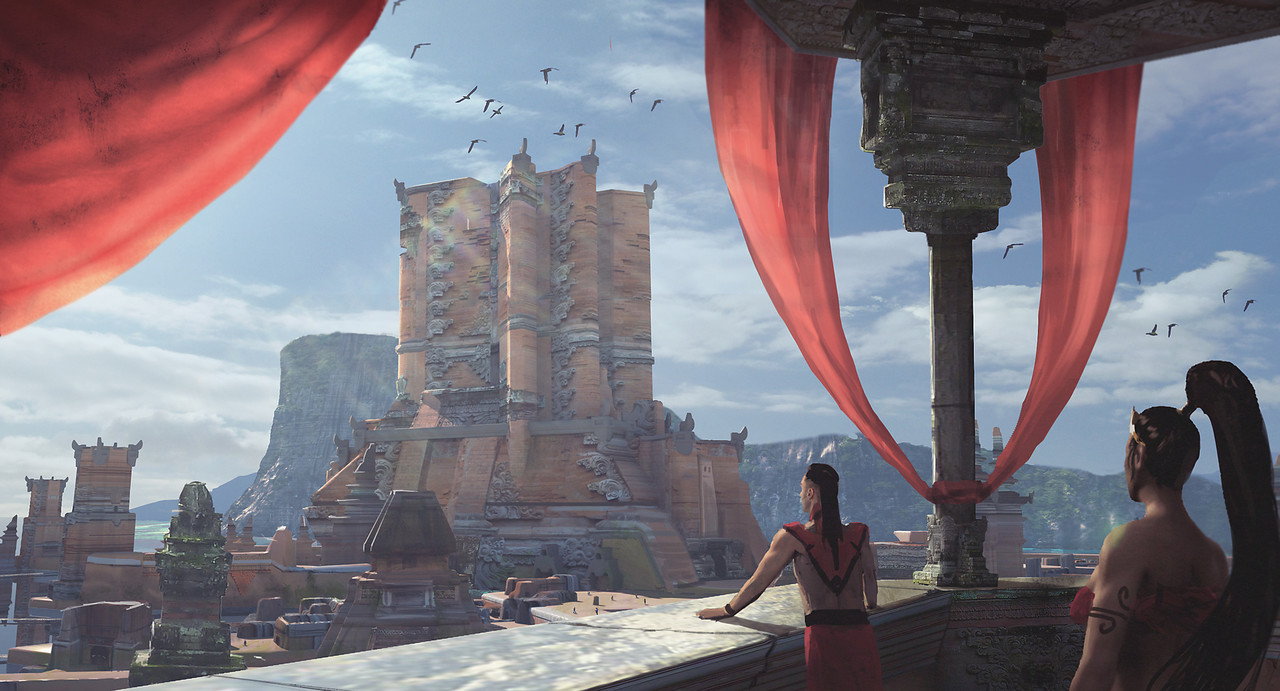 Honourable Mention Environment Design: Robin lhebrard
Randall Mackey: "The color and mood of this submission is truly transformative. I am waiting for a game that looks like this that I can get lost in for hours!"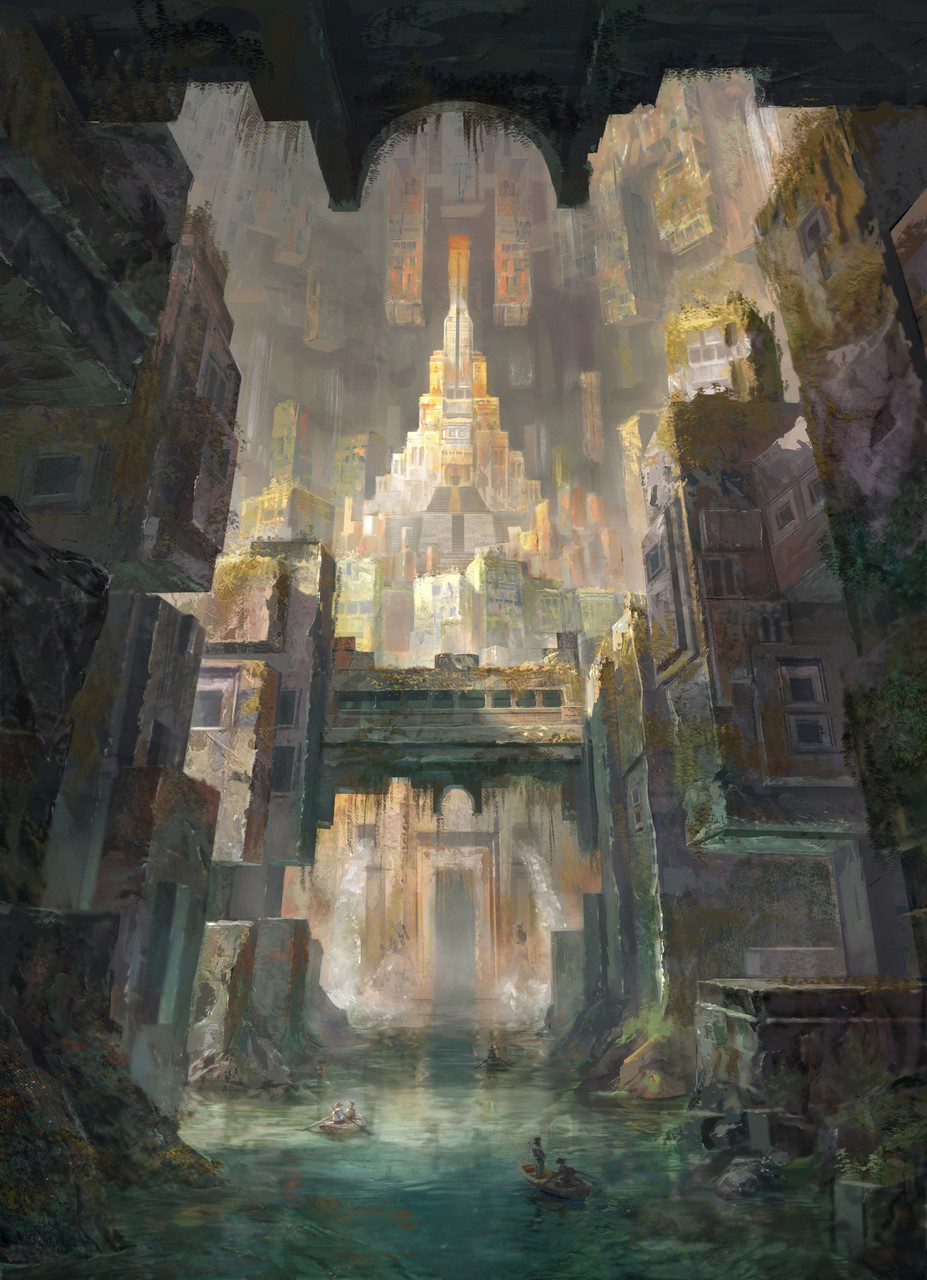 Honourable Mention Environment Design: Gabriel Tan
Randall Mackey: "Aside from the wonderful rendered scenes, the design callouts in Gabriel's submission were exceptionally well executed and informative."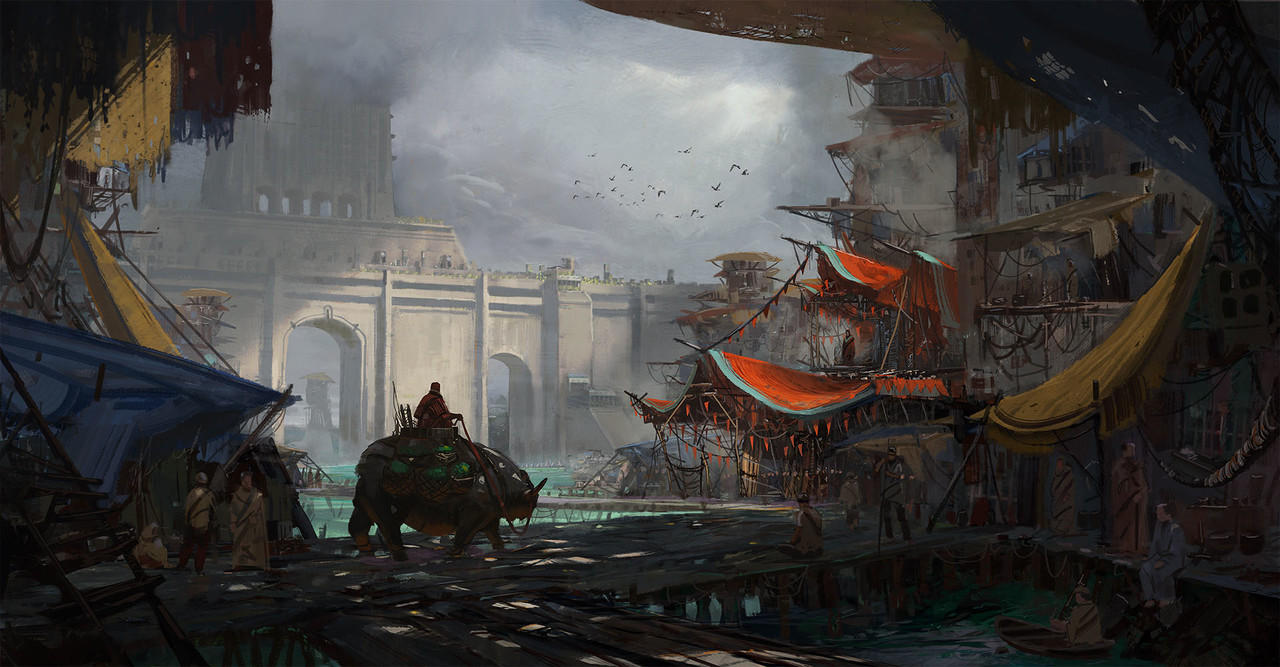 Honourable Mention Environment Design: Andrew Collins
Randall Mackey: "This whole submission is strong, but I am particularly a fan of how Andrew designed an interior space and did it so clearly. Environment art is just as much about going inside of buildings and exploring as it is about the beautiful big exterior set pieces."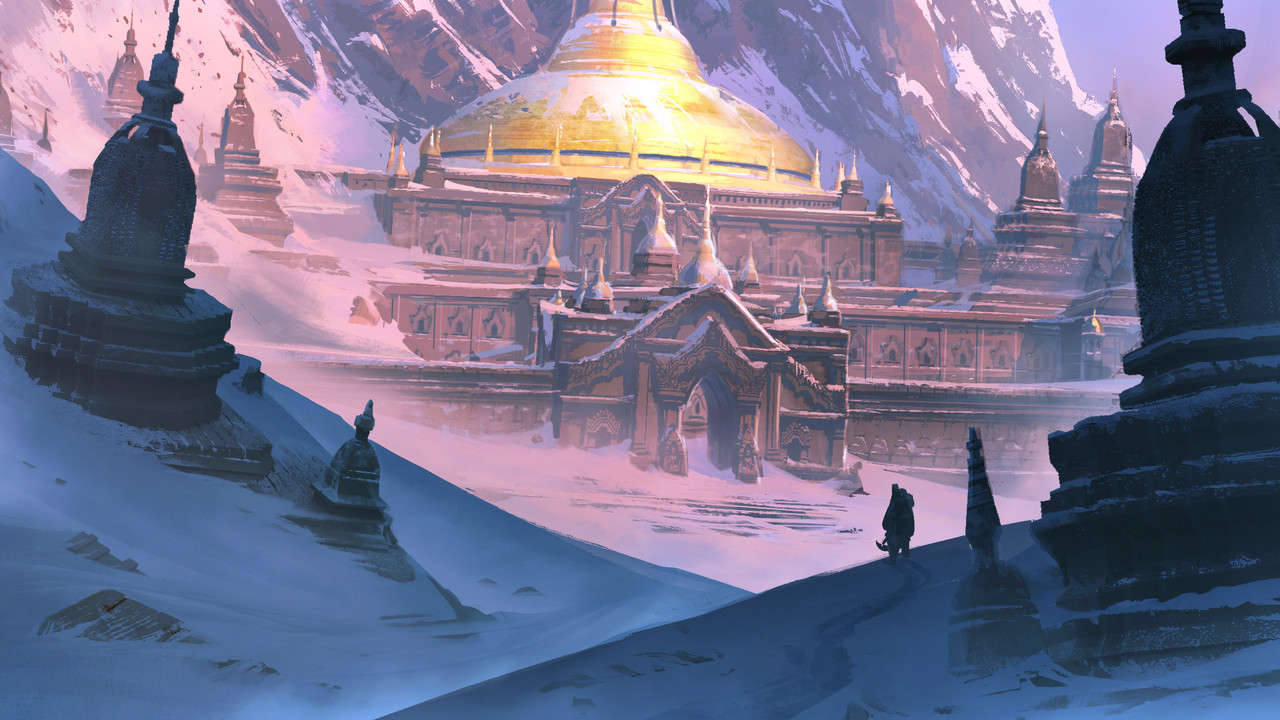 Honourable Mention Environment Design: Alexey Shugurov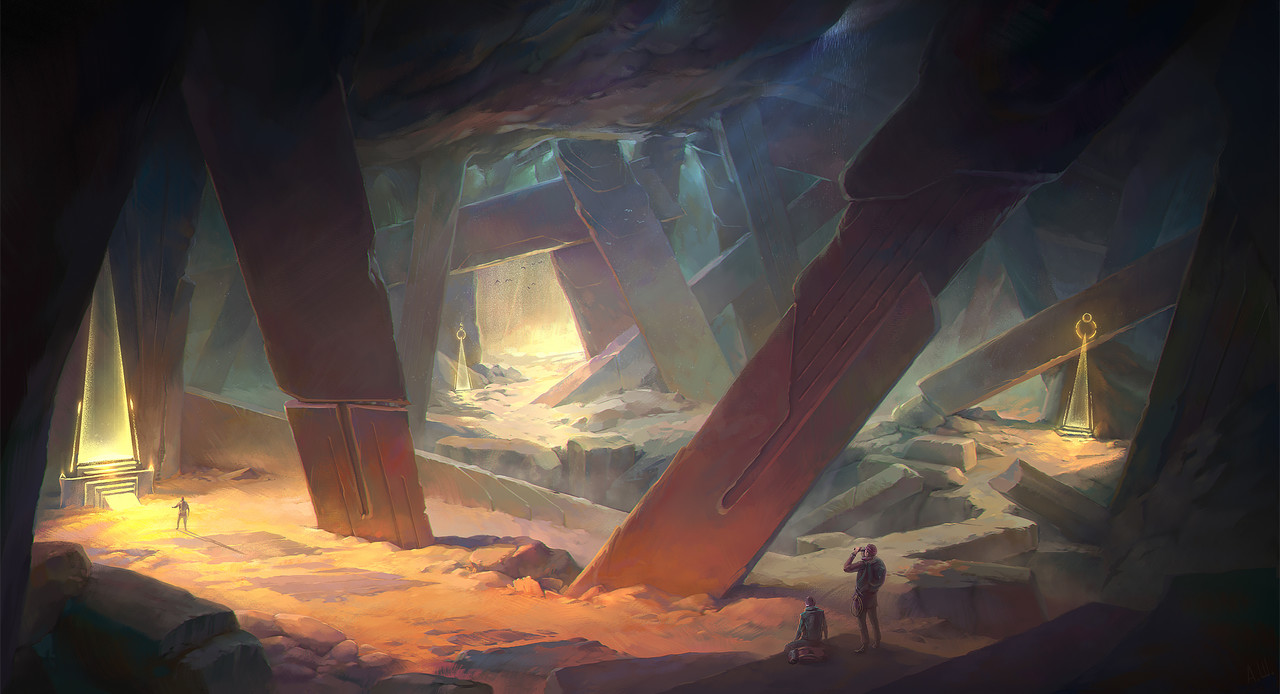 Ancient Civilizations – Game Character Art (real-time)
1st place Game Character Art (real-time): Rodrigo Gonçalves (Original concept: Tatiana Vetrova)
Satoshi Arakawa: "Rodrigo's piece is the most polished entry in the game-art character challenge.  He did an excellent job translating the concept to 3D form while also adding his own unique touches.  Sculpting, modeling, and texturing are all done to an incredibly high standard!"
Devon Fay: "Captures the attitude of the character perfectly."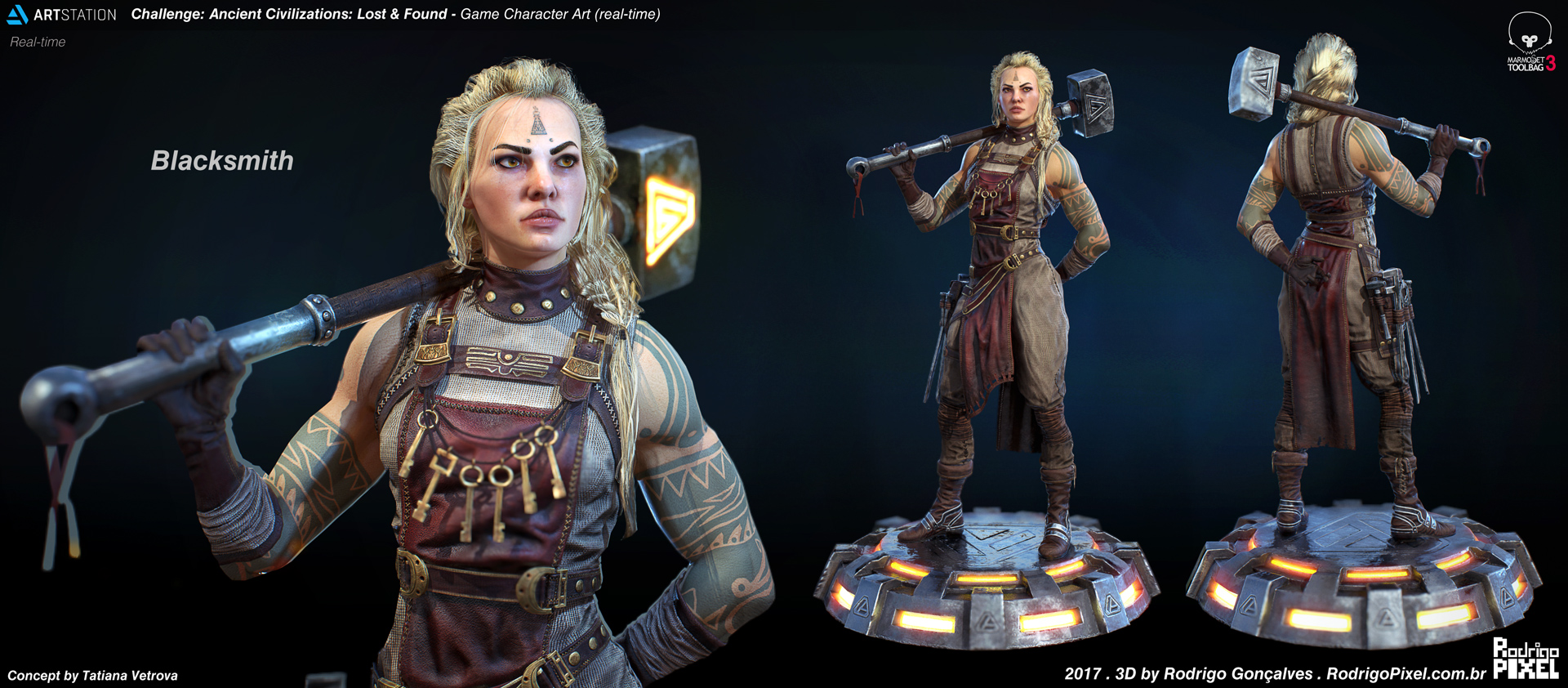 2nd place Character Art (real-time): Georgian Avasilcutei
Satoshi Arakawa: "Georgian's piece shows incredible attention to detail.  The execution of historical, ornate, Egyptian accessories is phenomenal!  The material work is also flawless."
Devon Fay: "Extremely well executed. The attention to detail on every aspect of the character is inspiring. Superb topology, uvs, textures and everything. Love it."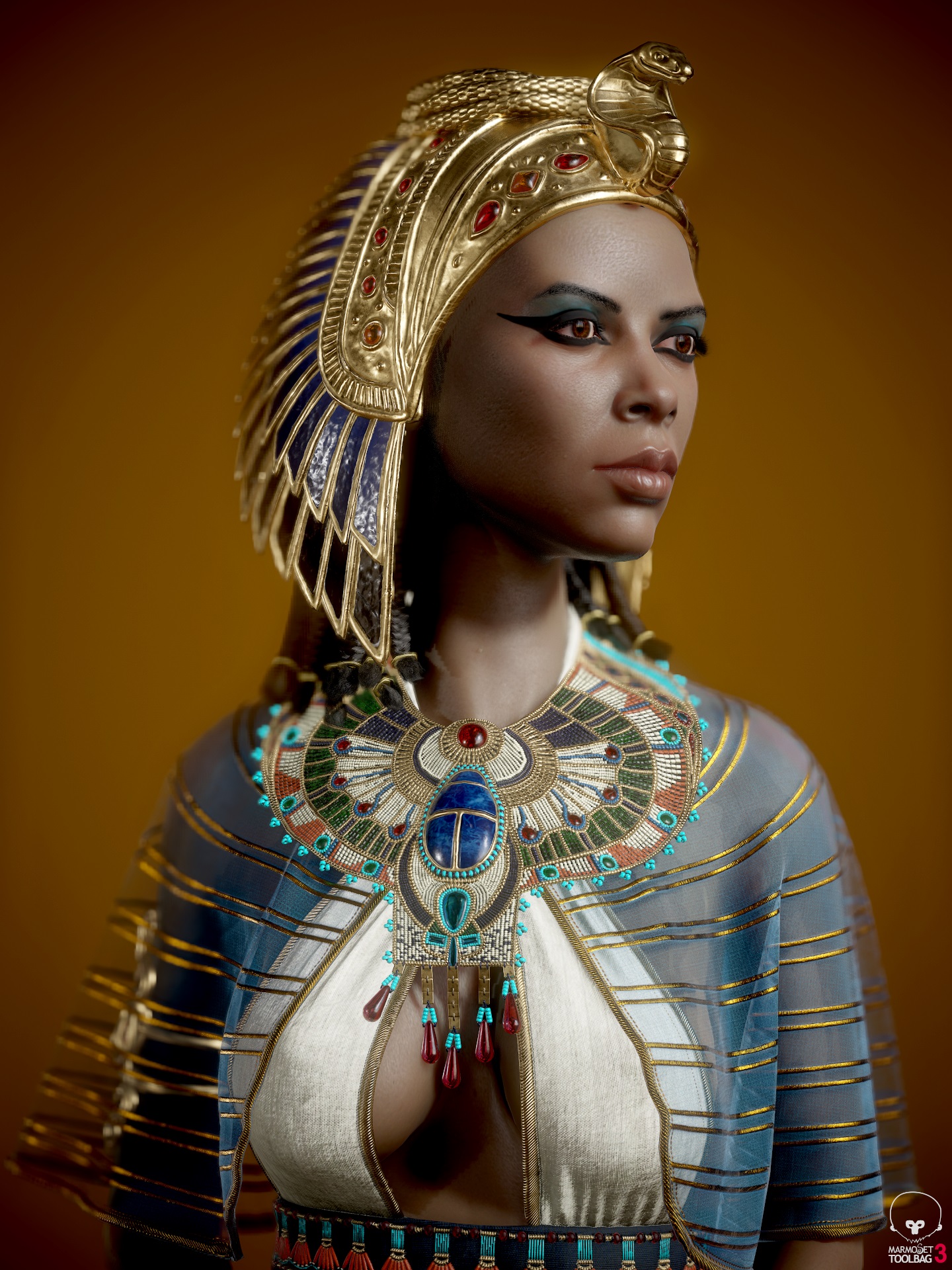 3rd place Character Art (real-time): Valerio – Korax – Carbone (Original concept: Tony Sart)
Satoshi Arakawa: "Stylized concepts are always incredibly difficult to translate to 3d and Valerio did an amazing job accomplishing just that. The colors and presentation are also fantastically well done."
Devon Fay: "Beautifully executed model. Technically well done in every way. Did a fantastic job keeping the tone and personality of the design when bringing it to 3D."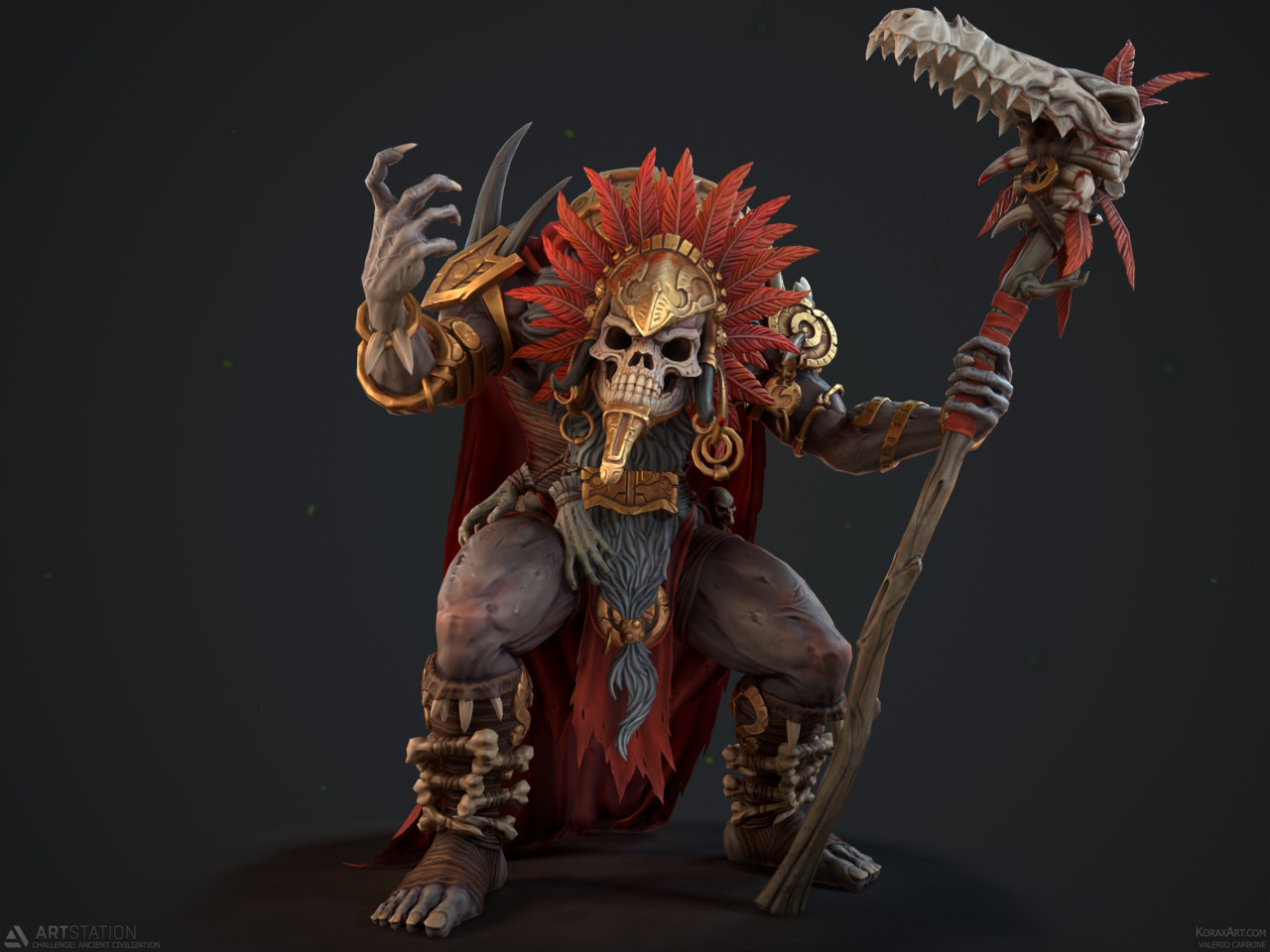 Honourable Mention Character Art (real-time): Subi Prakash (Original concept: Silviu Sadoschi)
Satoshi Arakawa: "I think what stands out to me about Subi's piece is the immaculate folds work. The draping and cloth work for this character is the best of the challenge. Of course, it would not stand out if the rest wasn't equally beautiful as well."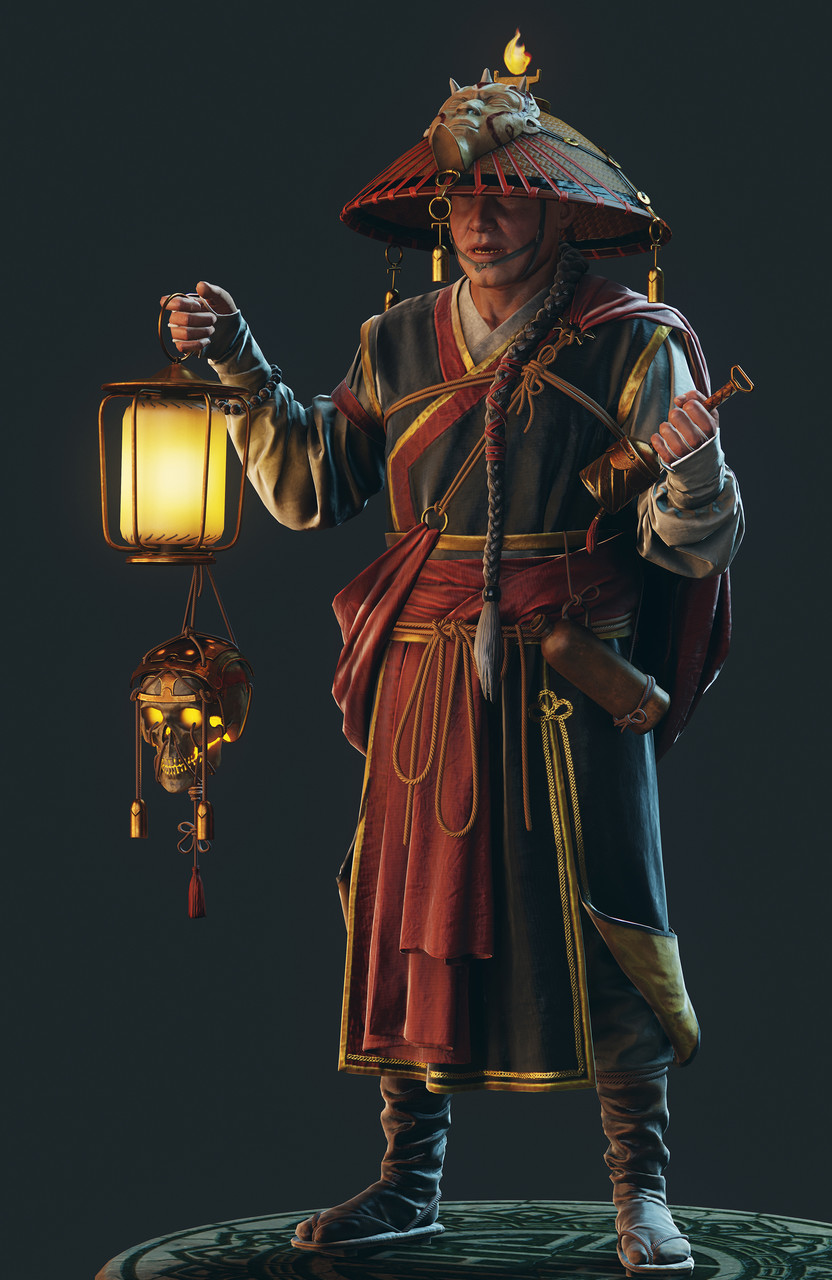 Honourable Mention Character Art (real-time): Marat Latypov
Satoshi Arakawa: "Beautiful stylized piece that conveys the most emotion of the finalists. The technical execution is well done but what really sells this character is the raw emotion conveyed in the pose and expression. Just fantastic!"
Renaud Galand: "By far the most expressive entry of this category! Great facial expression and dynamic composition. I also really like how the folds are clean and determined enough to not counter the final pose. The shading and and believability of the materials (even in a stylized universe) could have used some improvement. Awesome entry."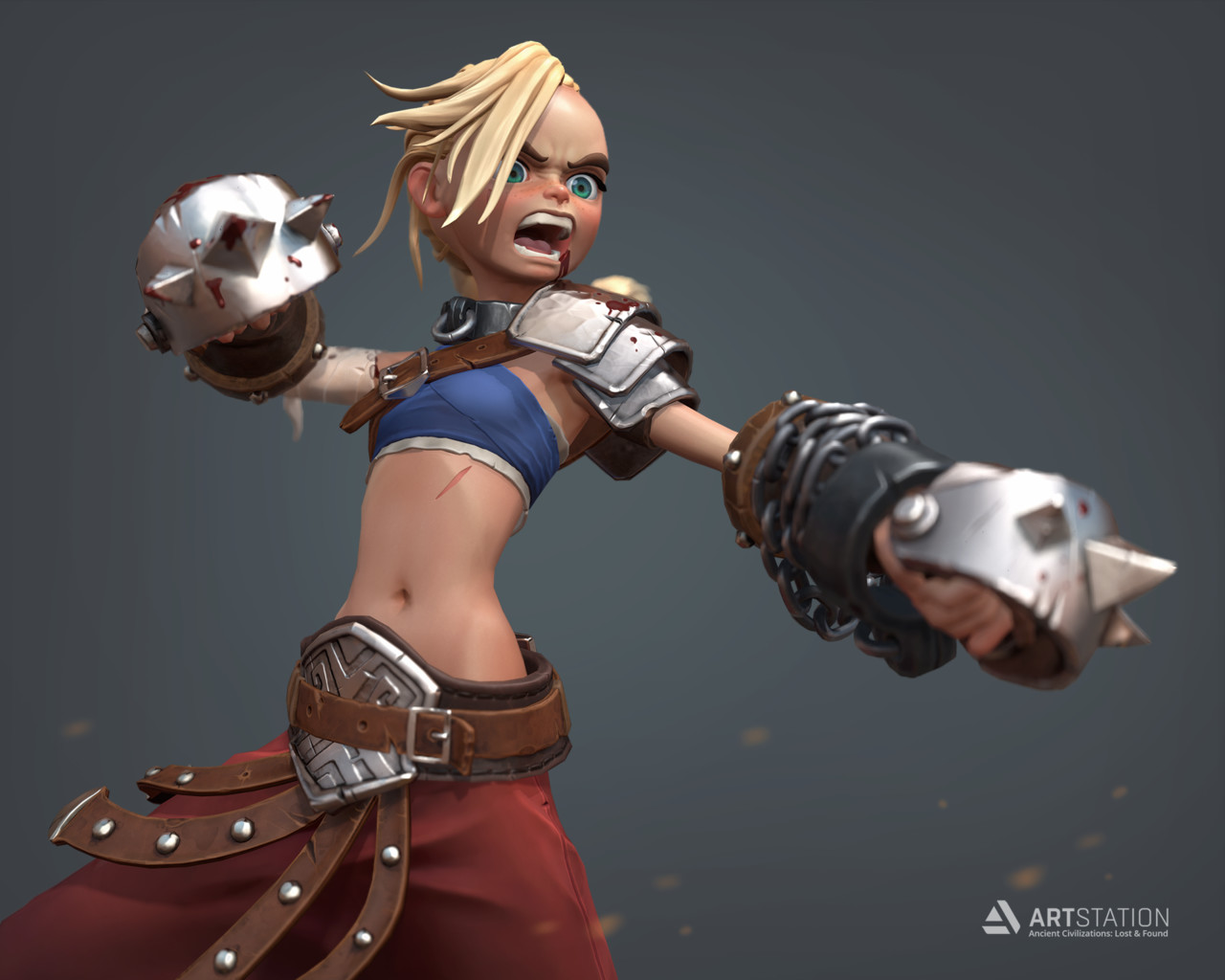 Honourable Mention Character Art (real-time): Tommy Gunardi Teguh (Original concept: Carlyn Lim)
Satoshi Arakawa: "I'm happy to see that a lot of Carlyn's concepts were perfected in 3D form and Tommy's was fantastic.  There is a lot going on in these concepts so having that read well in 3D was an incredible challenge and Tommy pulled it off nicely."
Renaud Galand: "Beautiful execution and very good ratio between stylized shapes, clean shading with some interesting second read details. I would have loved to see more colored gradients on the diffuse and a stronger ambient occlusion to help the read between all the elements. Excellent entry nonetheless."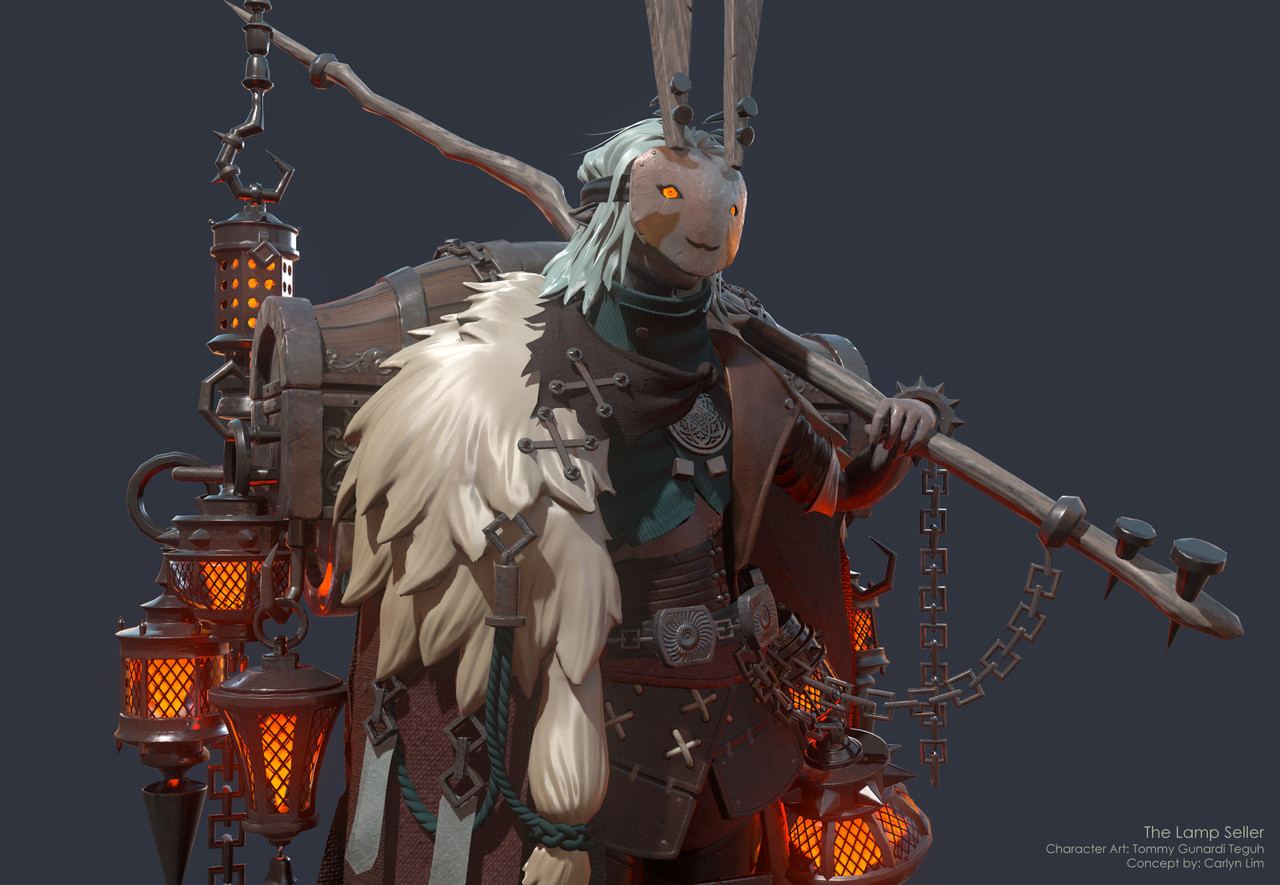 Honourable Mention Character Art (real-time): Mercurial Forge (Original concept: Jason Allen)
Satoshi Arakawa: "My favorite piece of this challenge. Oliver did a phenomenal job with shapes, colors, and details. He was also very receptive to feedback and his piece improved every step he made. Incredible presentation as well!"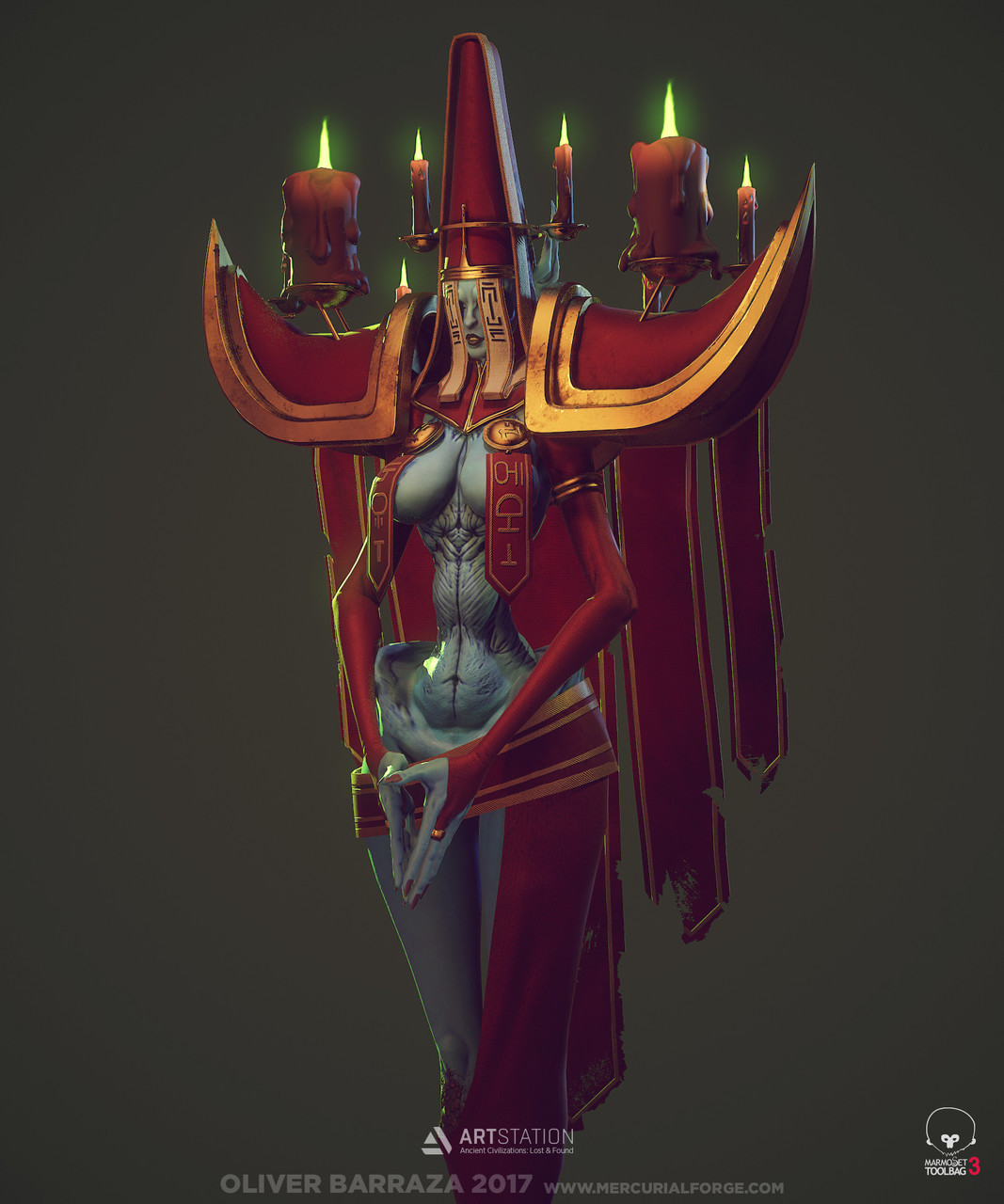 Honourable Mention Character Art (real-time): Stian Sundby (Original concept: Carlyn Lim)
Satoshi Arakawa: "Stian took Carlyn's concept and took it to another level. I really enjoy seeing people put their own twist on a concept to make it unique to their own style and Stian's is the epitome of that."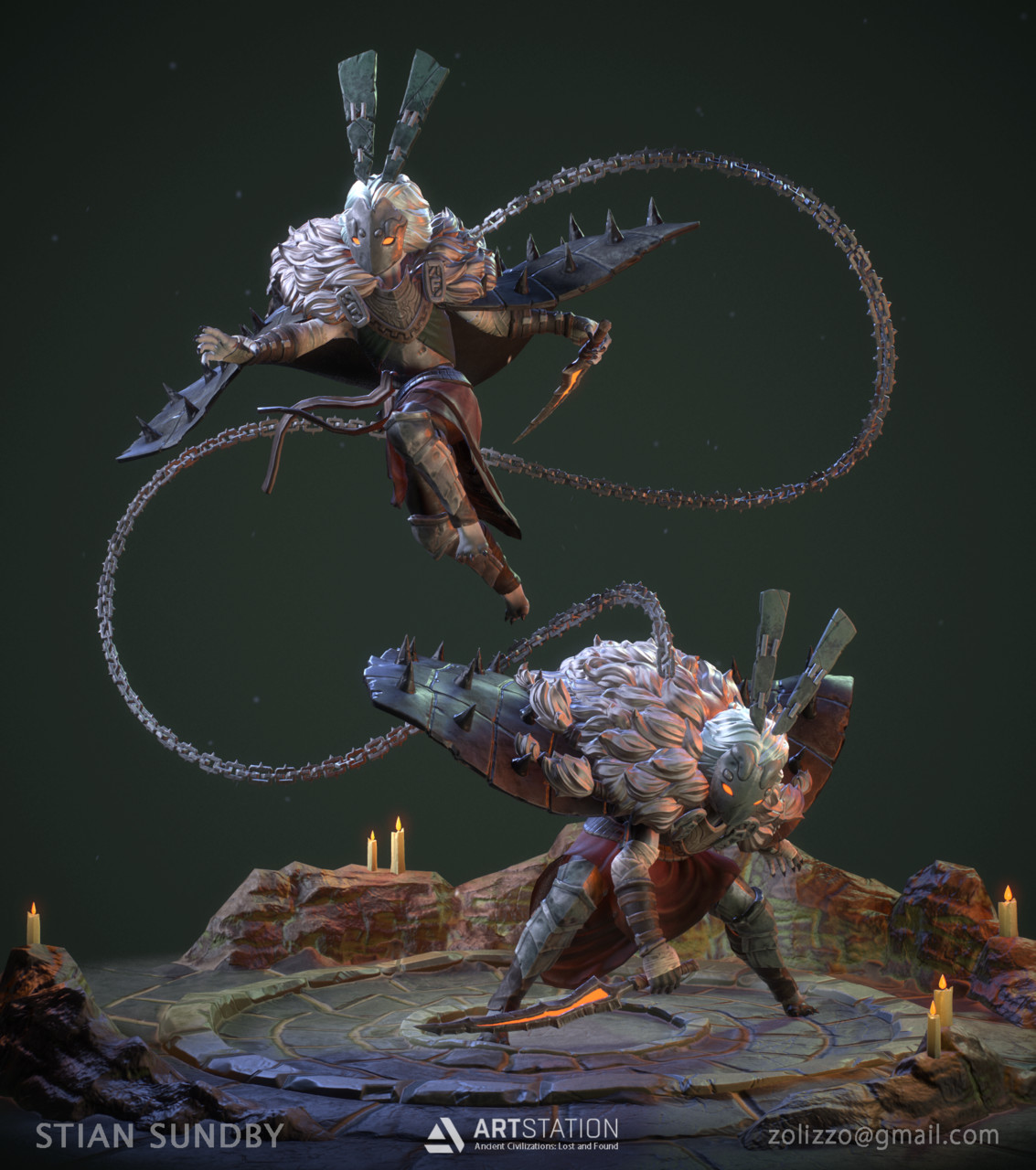 Ancient Civilizations – Film/VFX Character Art (rendered)
1st place Film/VFX Character Art (rendered): Remy Dupont (Original concept: Ivan Dedov)
Devon Fay: "Beautifully sculpted character. Lots of challenging aspects all rolled into one design and Remy executed on all of them expertly."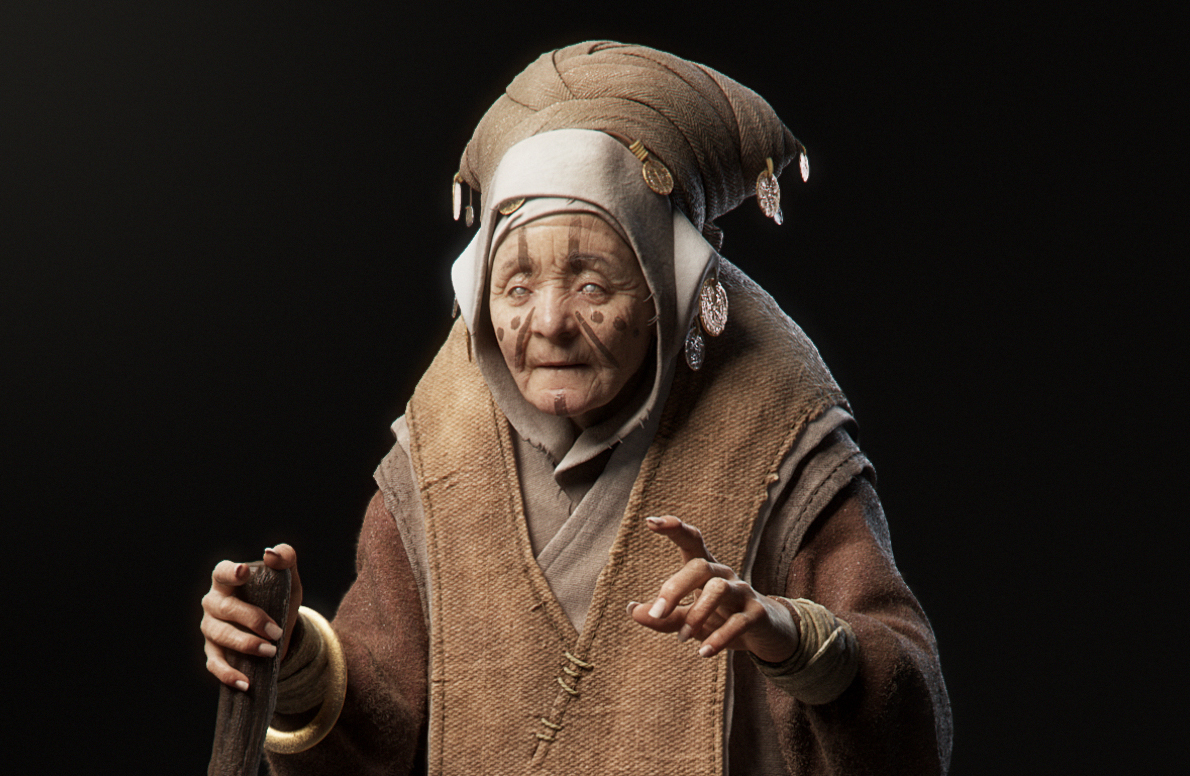 2nd place Film/VFX Character Art (rendered): Mahabir Singh (Original concept: Silviu Sadoschi)
Devon Fay: "Interesting take on some classic ideas. Very well done model, render and materials."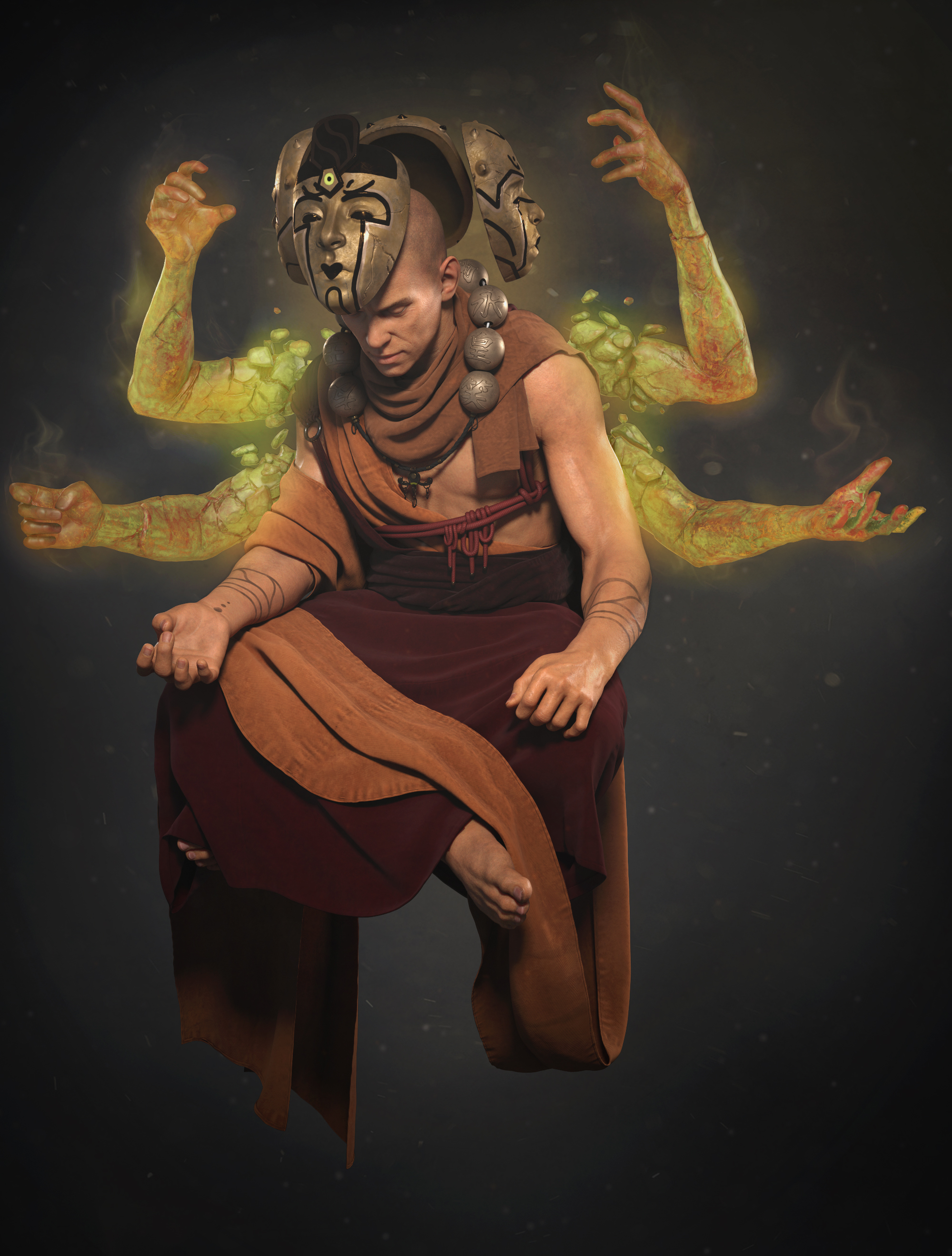 3rd place Film/VFX Character Art (rendered): Alexia Rubod
Devon Fay: "The mix of soft forms with the crystals is inspired. Absolutely love the idea, execution, and tone. Love it."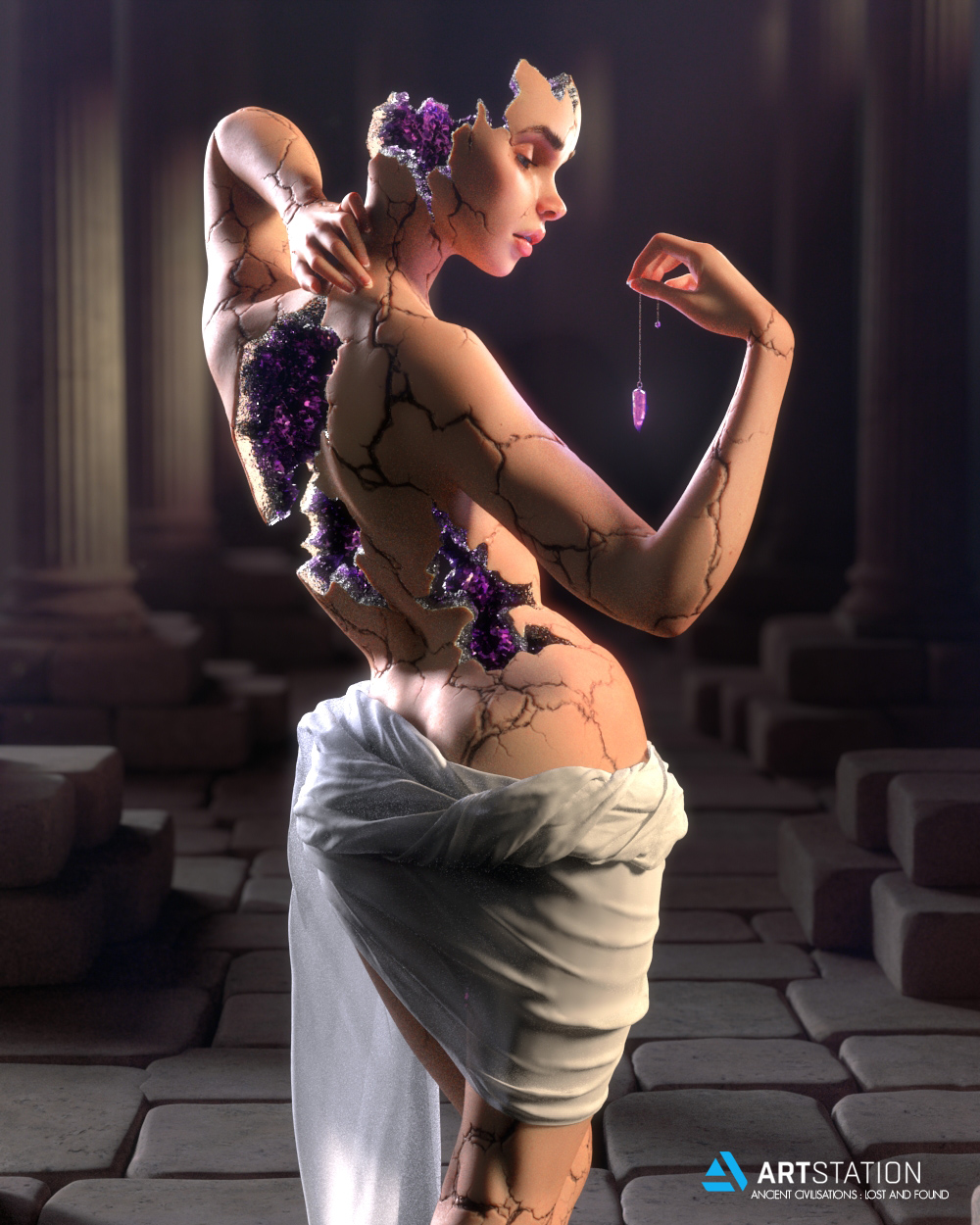 Honourable Mention Film/VFX Character Art (rendered): Ellie Dupont (Original concept: Florian Coudray)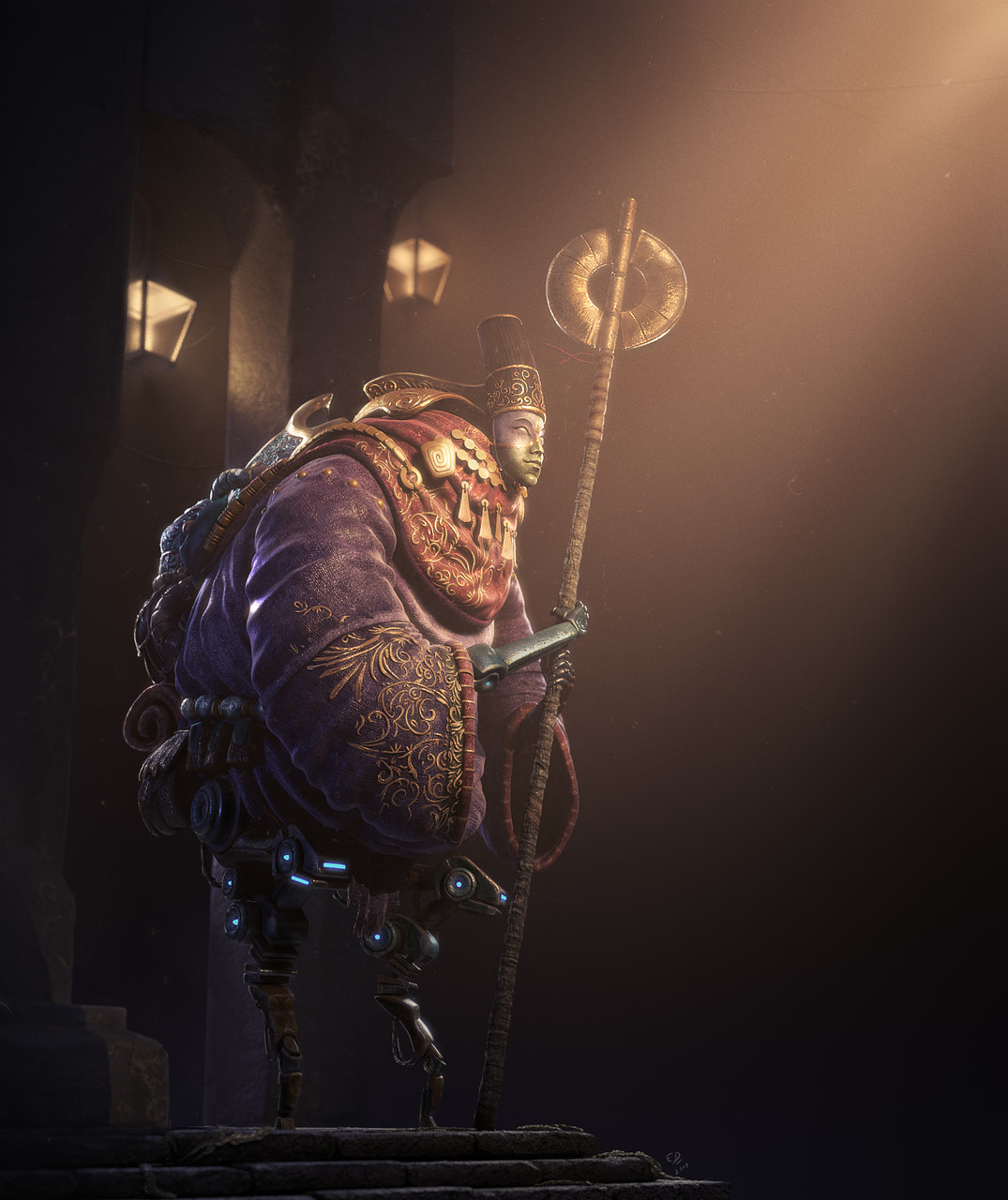 Honourable Mention Film/VFX Character Art (rendered): Hugo Leygnac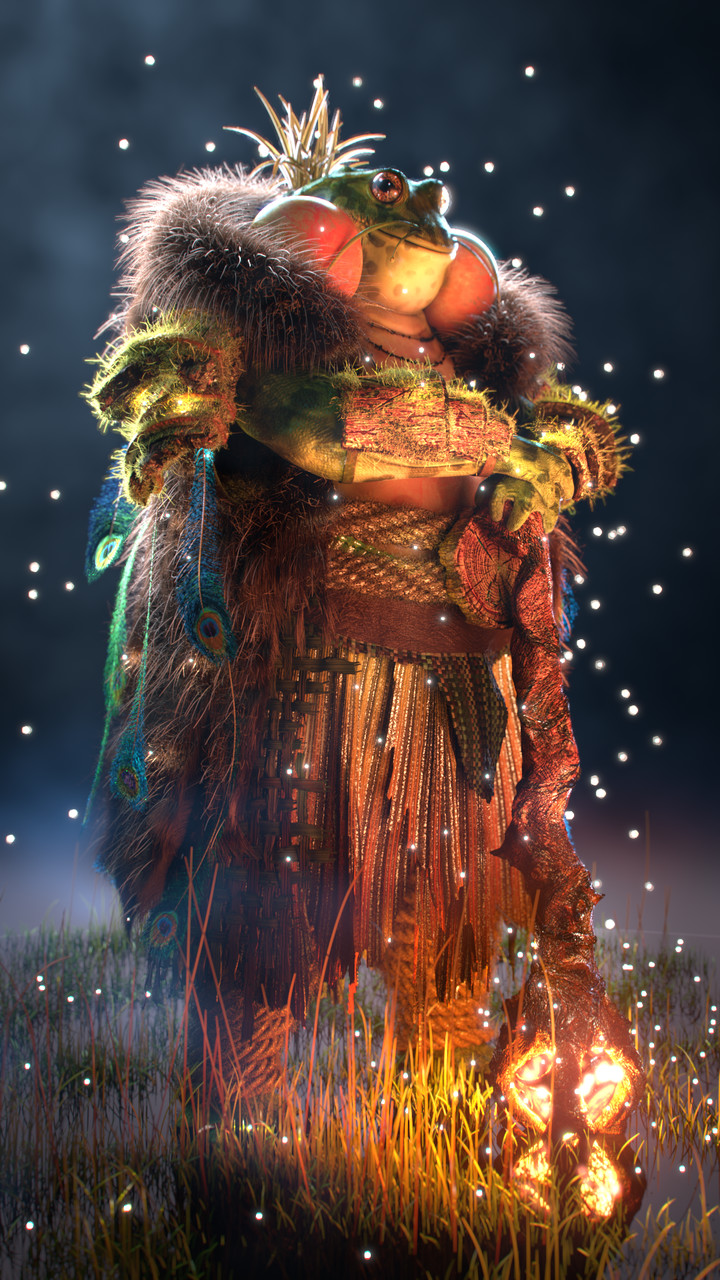 Honourable Mention Film/VFX Character Art (rendered): Daniele Viagi (Original concept: Juraj Bezak)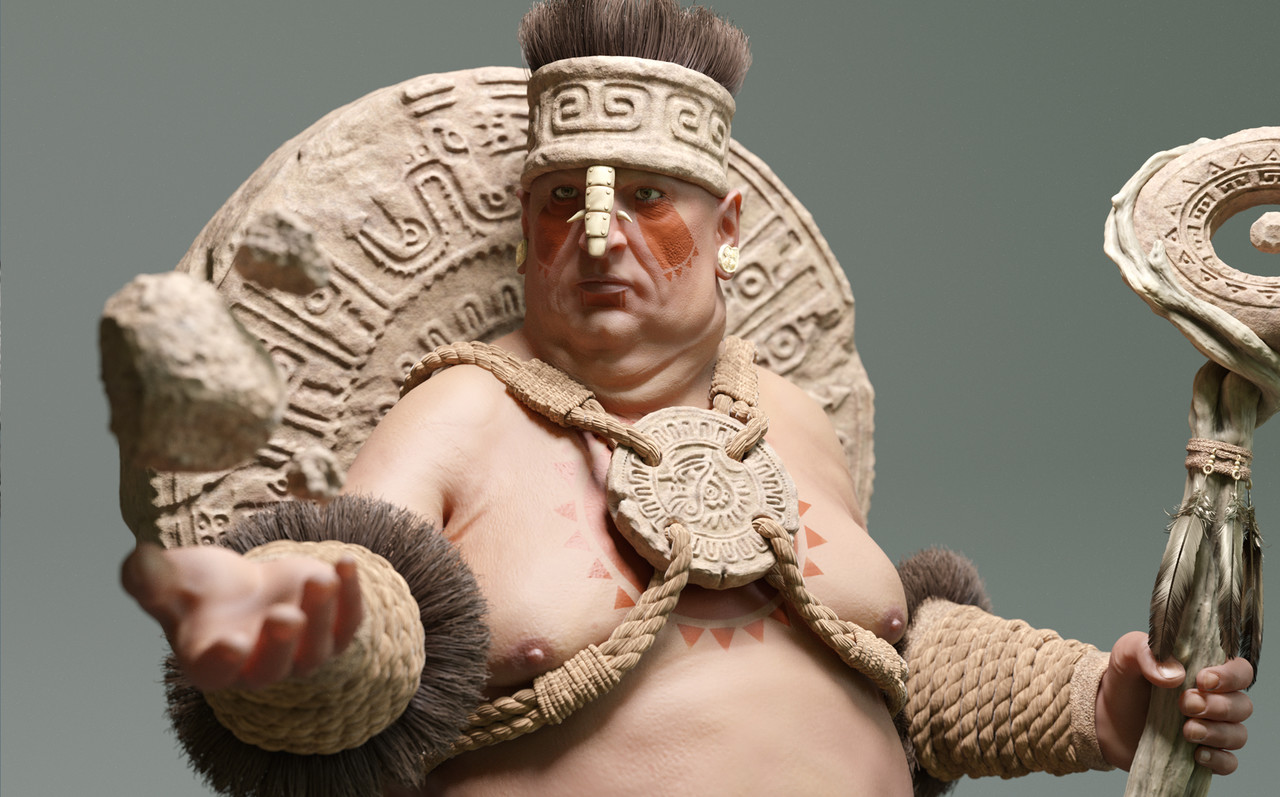 Honourable Mention Film/VFX Character Art (rendered): Sandeep VS (Original concept: Anastasia Nikulina)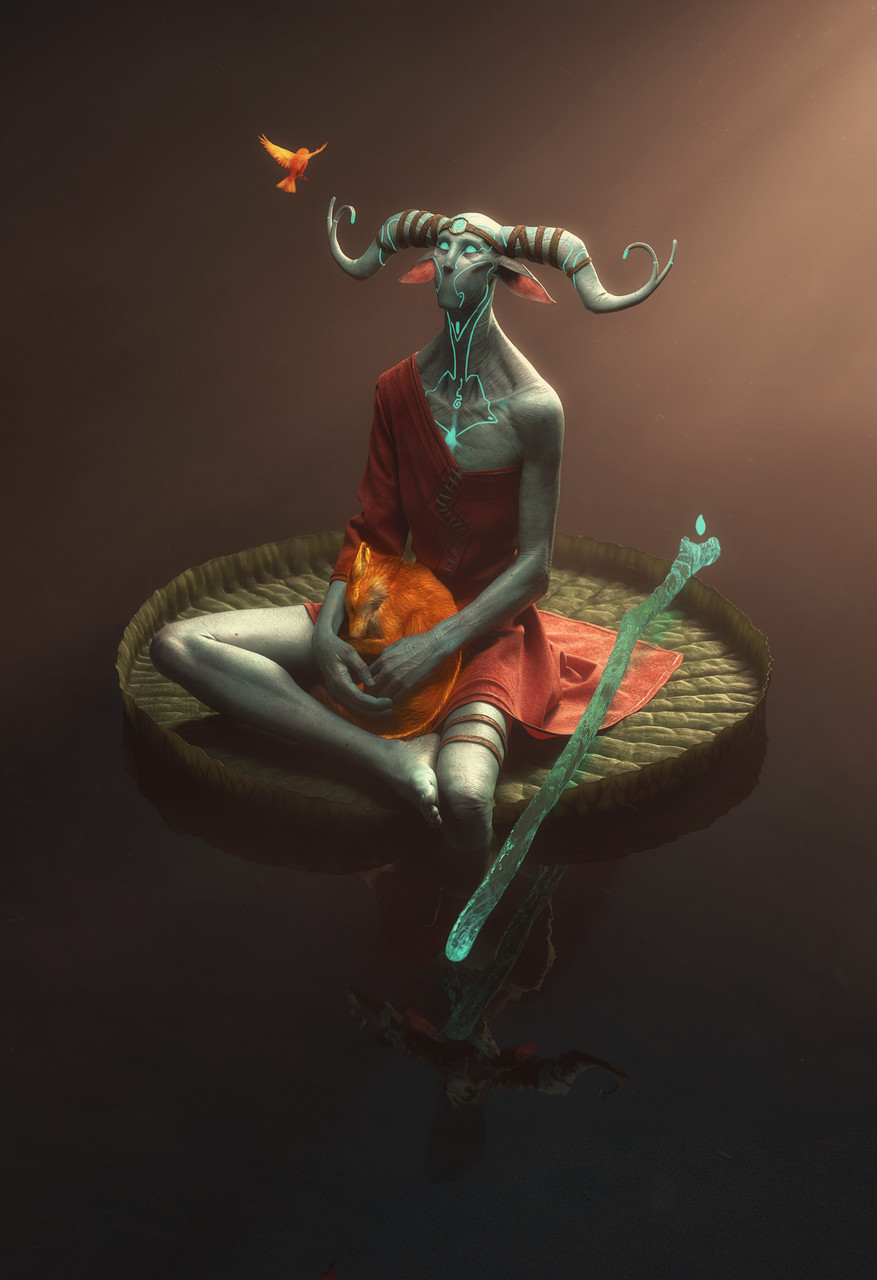 Honourable Mention Film/VFX Character Art (rendered): Thuan Nguyen Minh Duong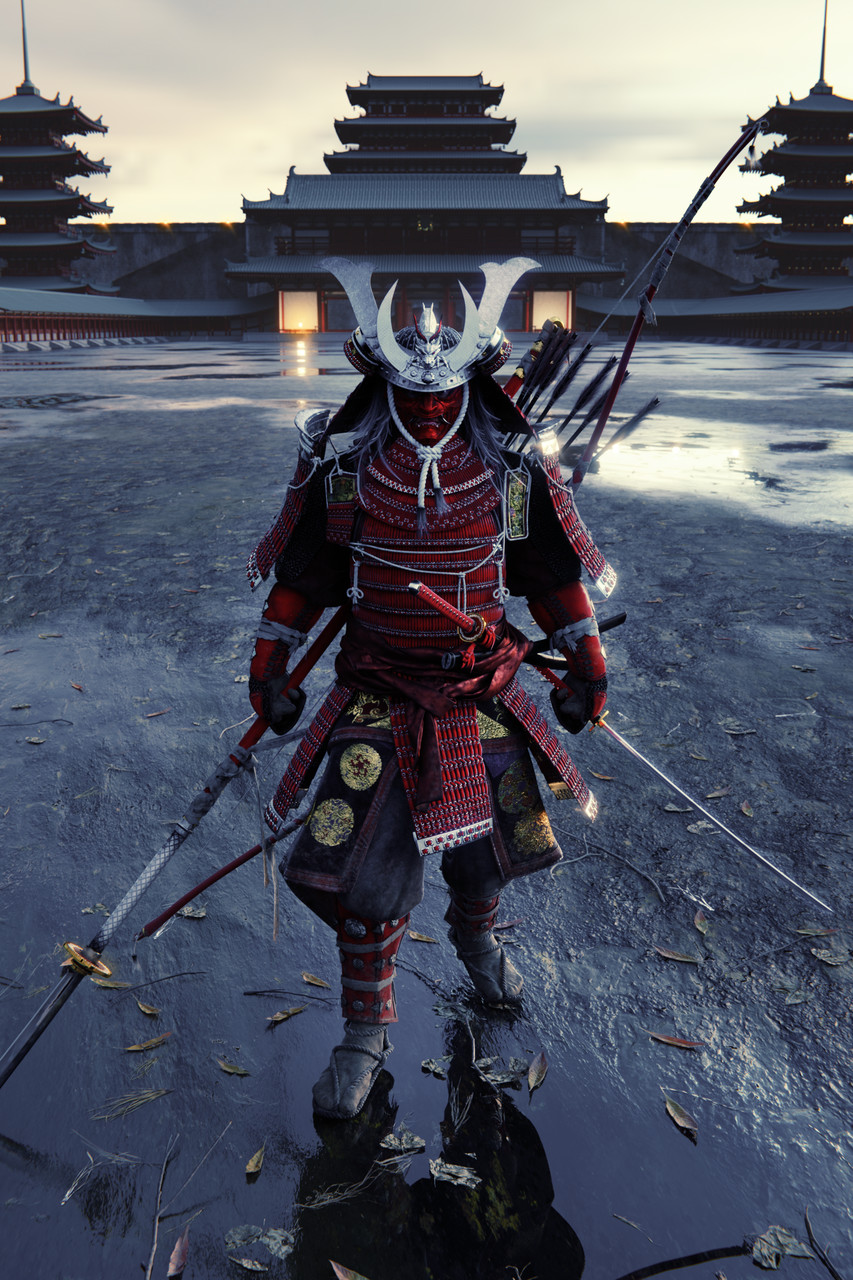 Ancient Civilizations – Film/VFX Matte Painting
1st place Film/VFX Matte Painting: Uriel Leonardo Prado Soria (Original concept: Aaron Chow)
Tiberius Viris: "Uriel's entry is a good example of how to follow a pre-production concept and turn it into a final environment."
Devon Fay: "Crazy amount of detail achieved in these images. Approached in a really smart way that led to a very successful final submission."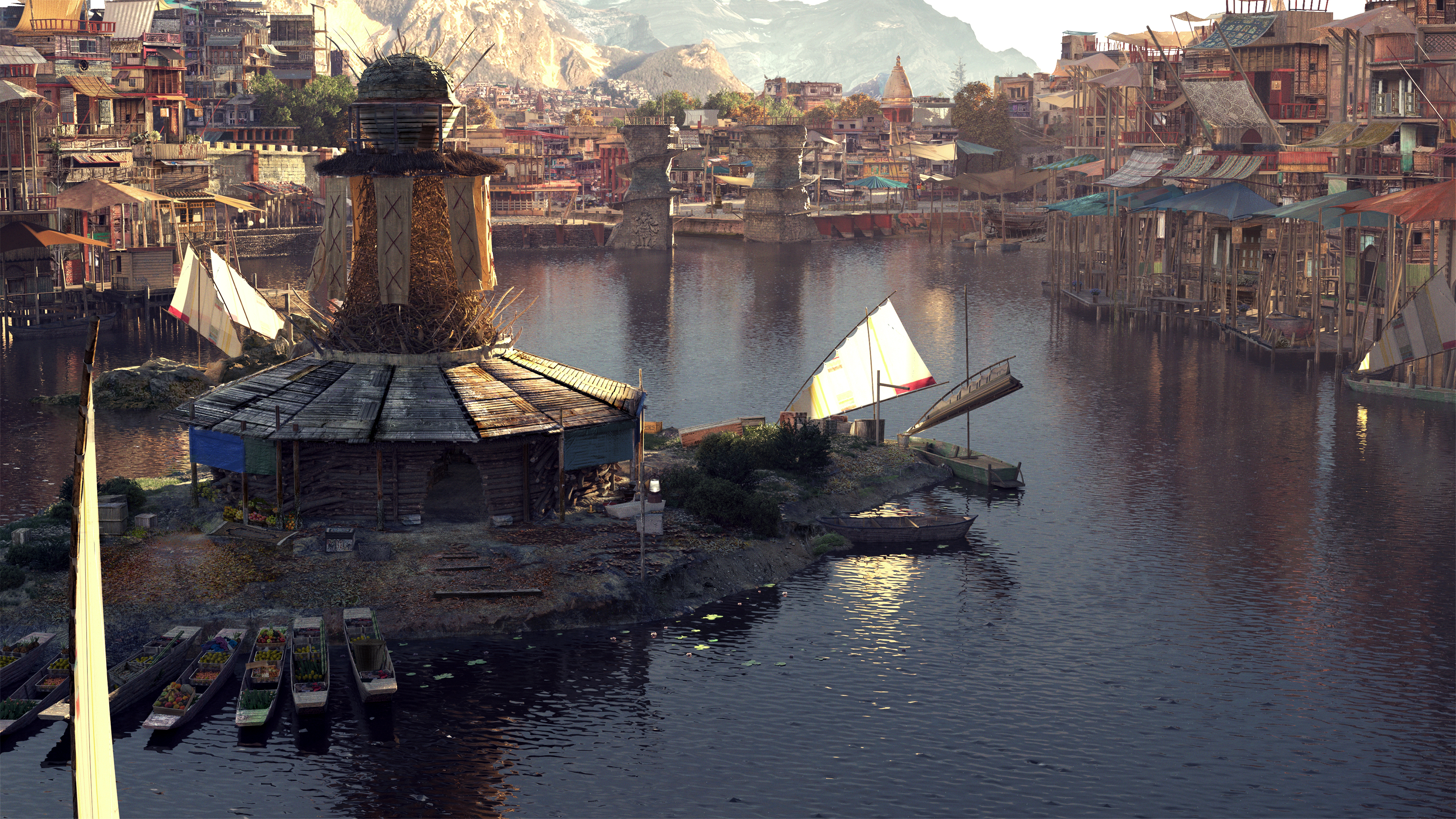 2nd place Film/VFX Matte Painting: Maciej Biniek
Tiberius Viris: "I think Maciej's entry captures the theme very well, while at the same time builds a consistent environment that allows for multiple camera views."
Devon Fay: "The sense of scale and awe you have achieved is amazing. The execution makes this feel like an amazing place that could really exist."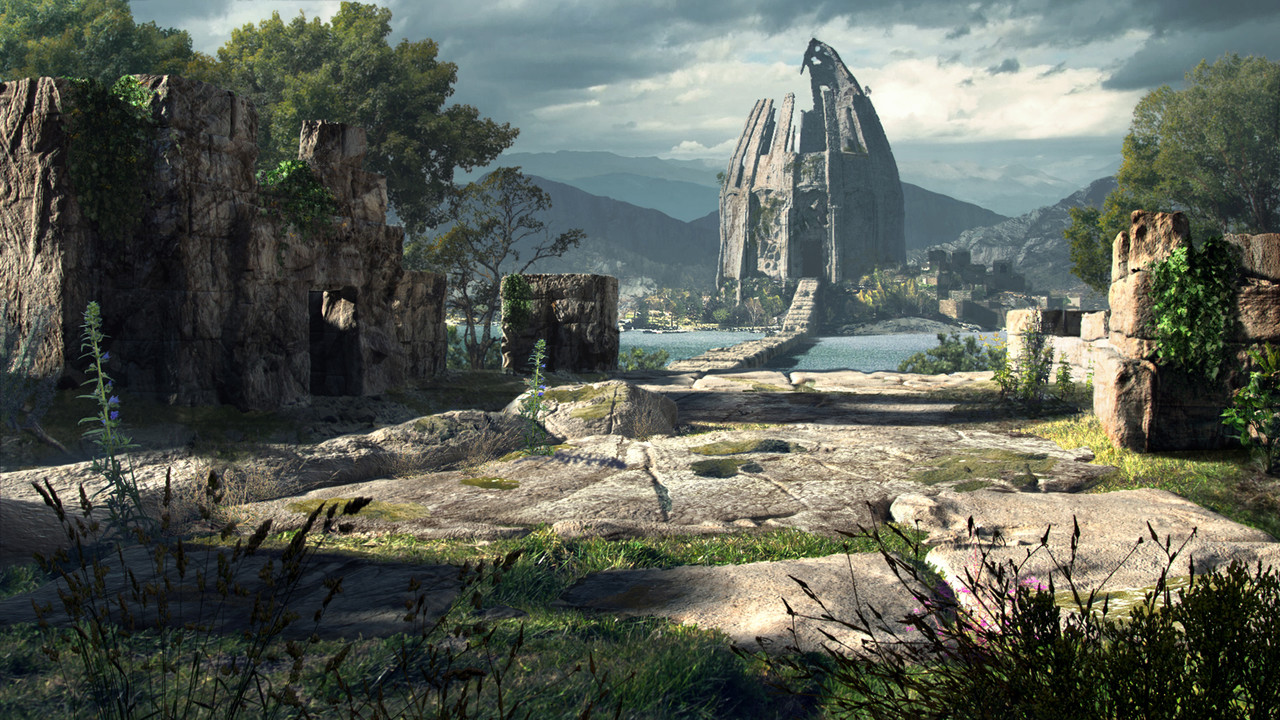 3rd place Film/VFX Matte Painting: Bahadir Özbek
Devon Fay: "Very smart approach to create a sense of scale and wonder. Especially love the twilight render."
Honourable Mention Film/VFX Matte Painting: Jamir Blanco (Original concept: Marc Alexandre Robbe)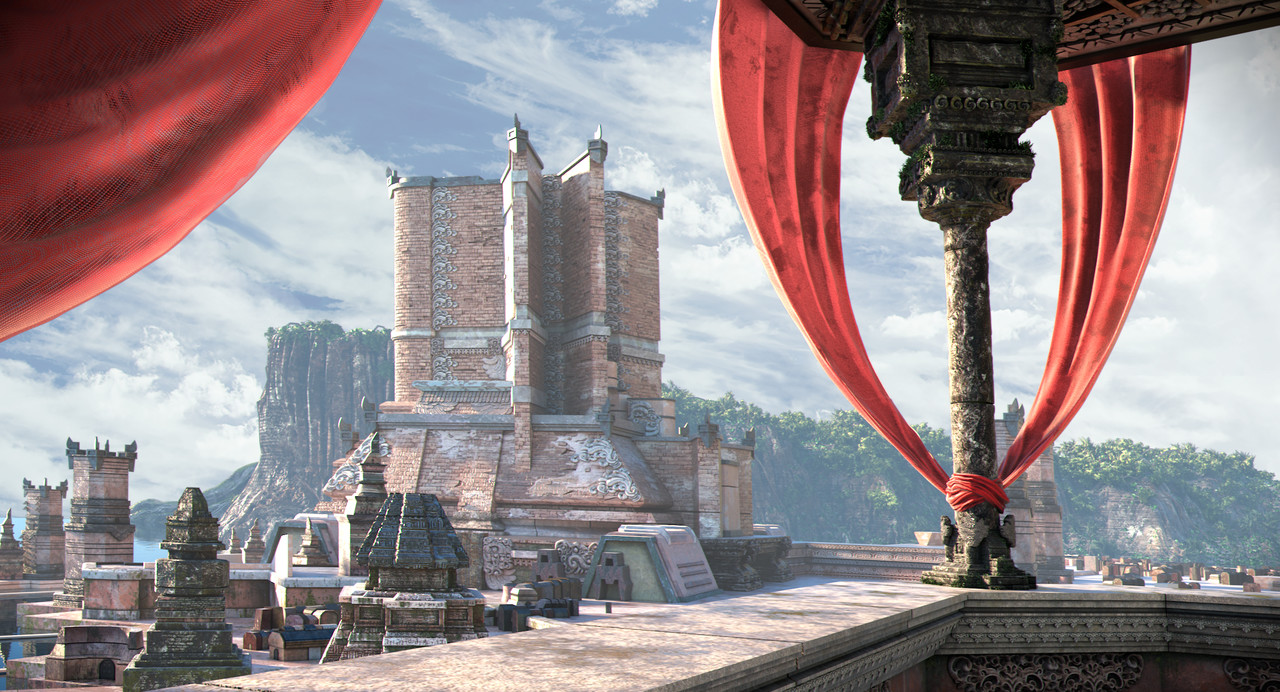 Honourable Mention Film/VFX Matte Painting: Paul Siedler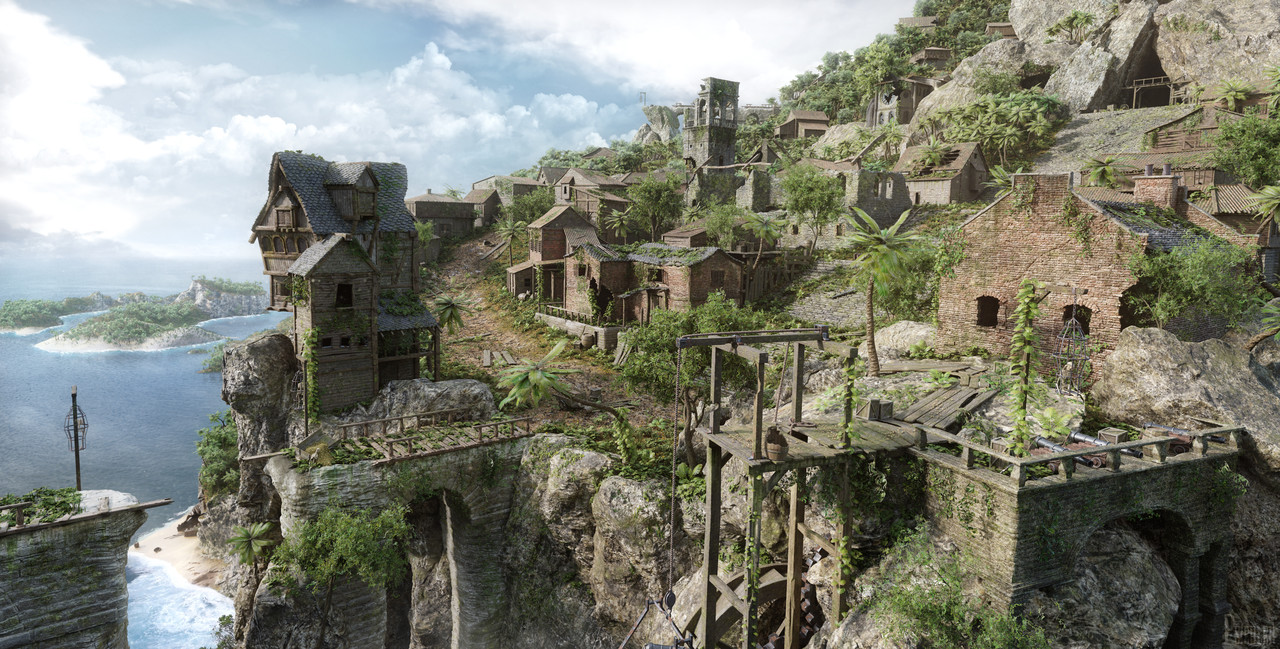 Honourable Mention Film/VFX Matte Painting: Ʌev Syn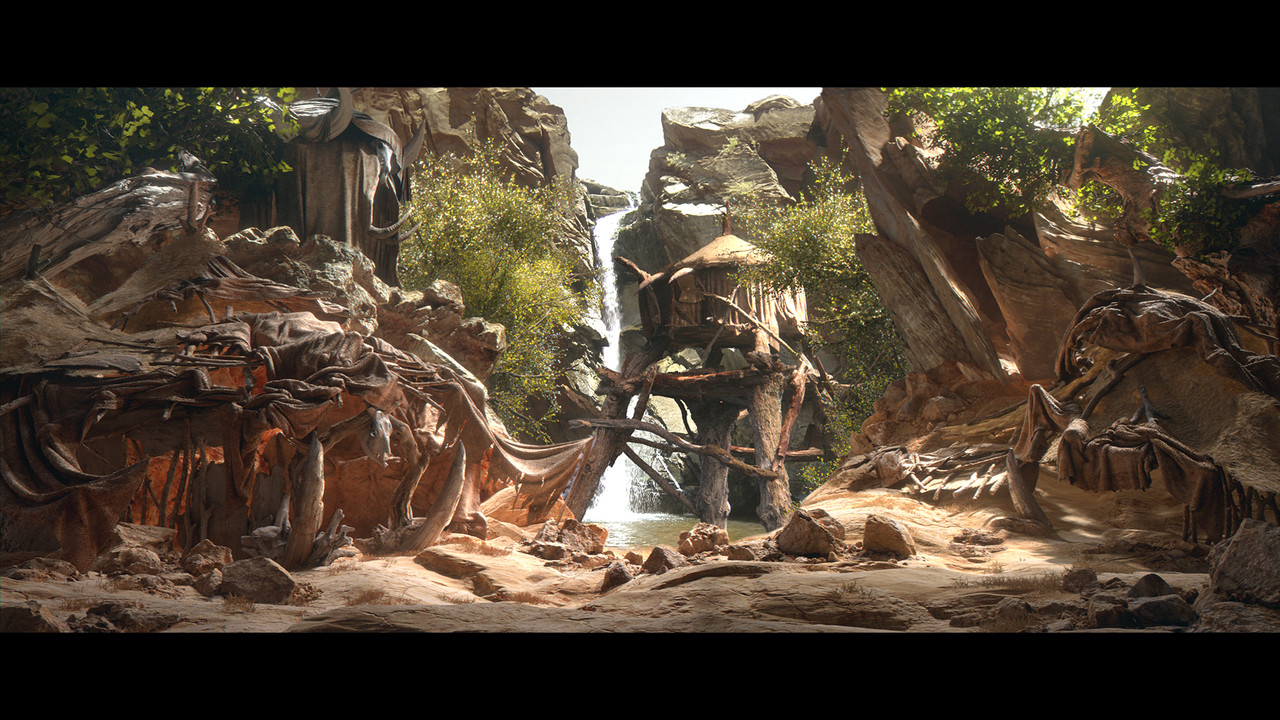 Honourable Mention Film/VFX Matte Painting: Paul Mercer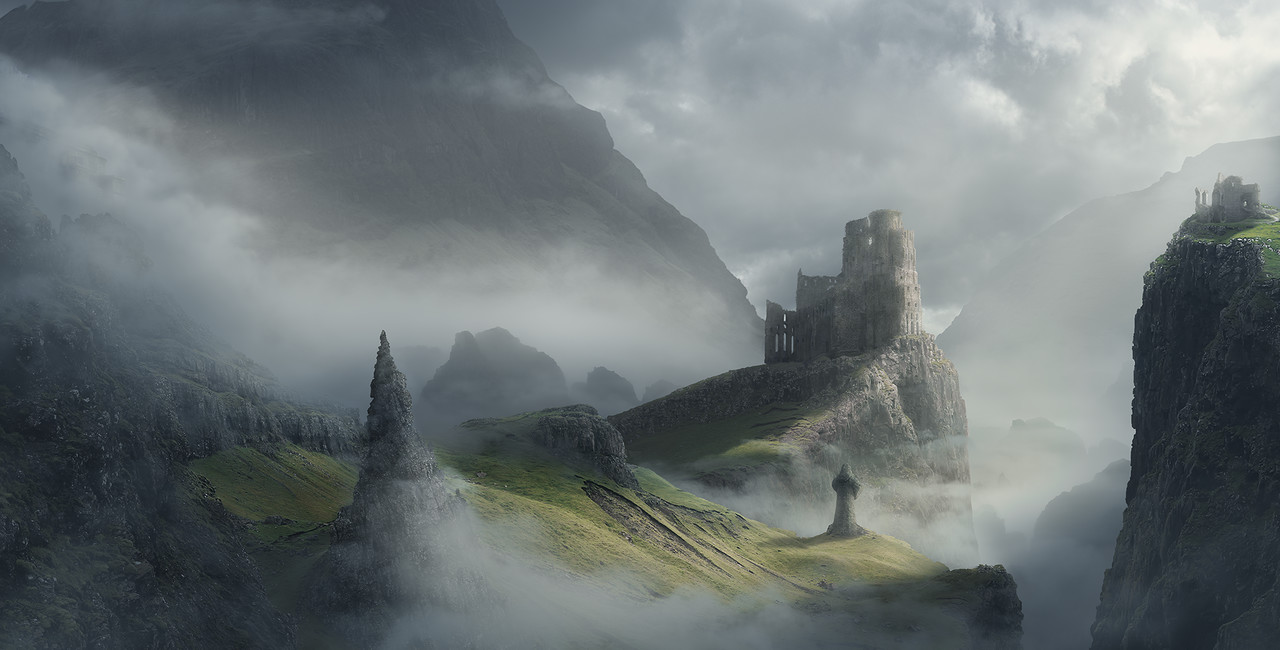 Honourable Mention Film/VFX Matte Painting: Julien B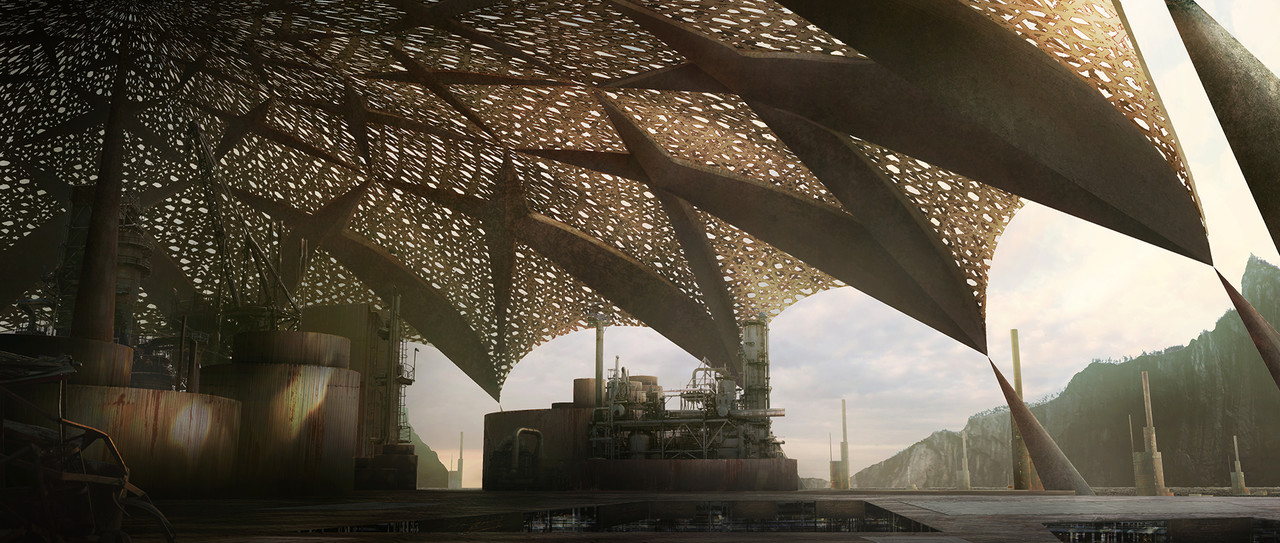 Ancient Civilizations – Game Environment/Level Art
1st place Game Environment/Level Art: Floyd Billingy (Original concept: Andrew Collins)
Devon Fay: "Fantastic holistic take on the environment. Large read is great, all the way down to the beautiful materials."
Tiberius Viris: "Floyd's entry accurately captures the original concept art, while adding details and personal touches that further improve it. Good job from both a technical and artistic point of view!"
2nd place Game Environment/Level Art: Alexandra Peer
Randall Mackey: "I don't know what kind of game this would be, and I don't know if I should feel afraid and uneasy, or cheerful and full of hope! I do know that this submission is absolutely magical, and I can stop taking it in! Absolutely amazing!"
Devon Fay: "The lighting, materials/textures, surreal subject matter and execution all lead to this submission easily standing out. Very unique and easy to get lost in."
Tiberius Viris: "Beautiful art and quite an original level design makes this one of my favorite entries. I would actually want to see and play this in a game!"
3rd place Game Environment/Level Art: Desmond Man (Original concept: Leon Tukker)
Devon Fay: "Amazing amount of detail added to this scene. The sense of scale is very impressive. Really smart workflow to cover LARGE areas with interesting details."
Tiberius Viris: "Desmond's entry is easily one of the most detailed and hard-worked entries, and the result speaks for itself."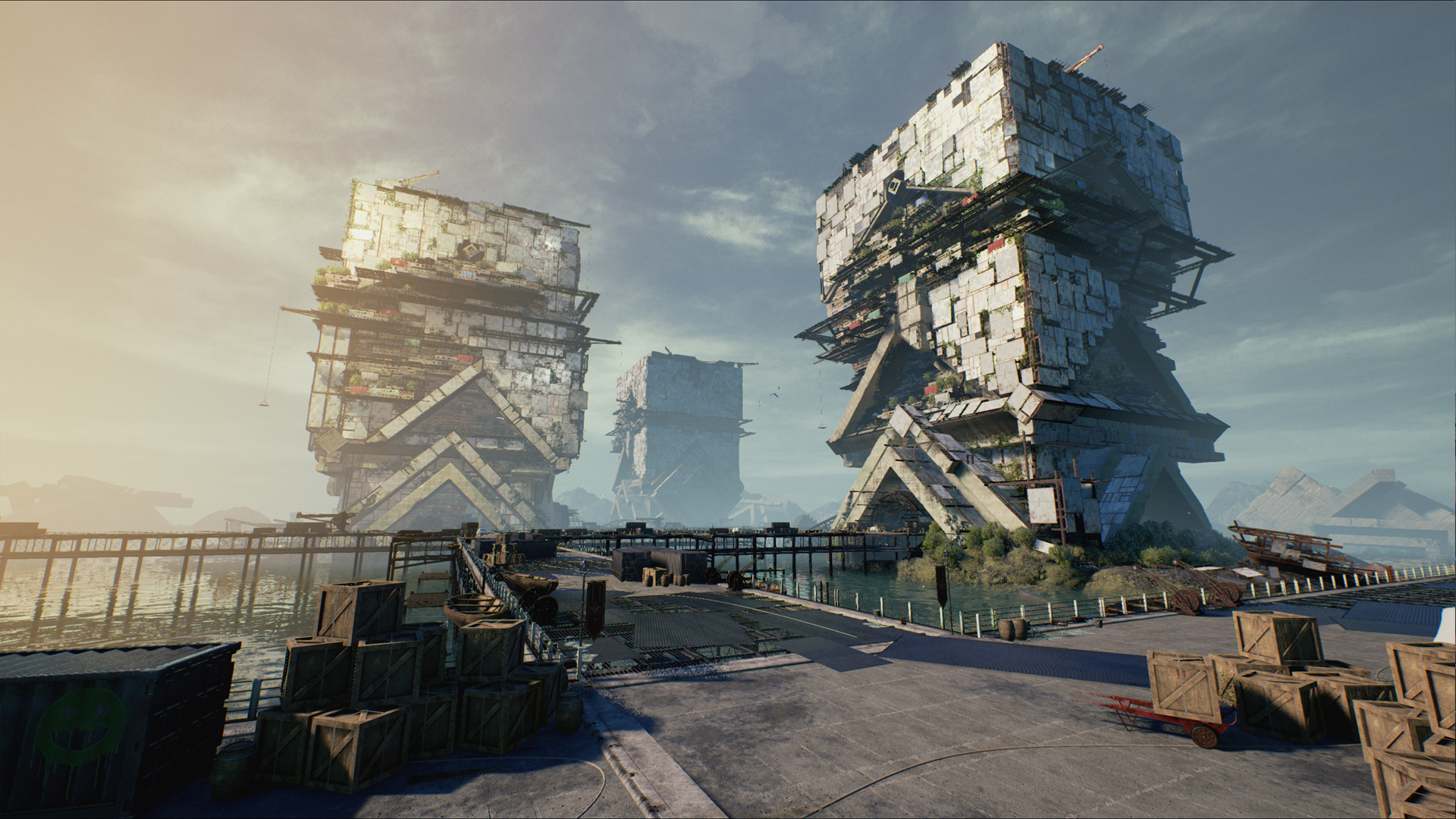 Honourable Mention Game Environment/Level Art: Karen Stanley (Original concept: Alex Feliksovich)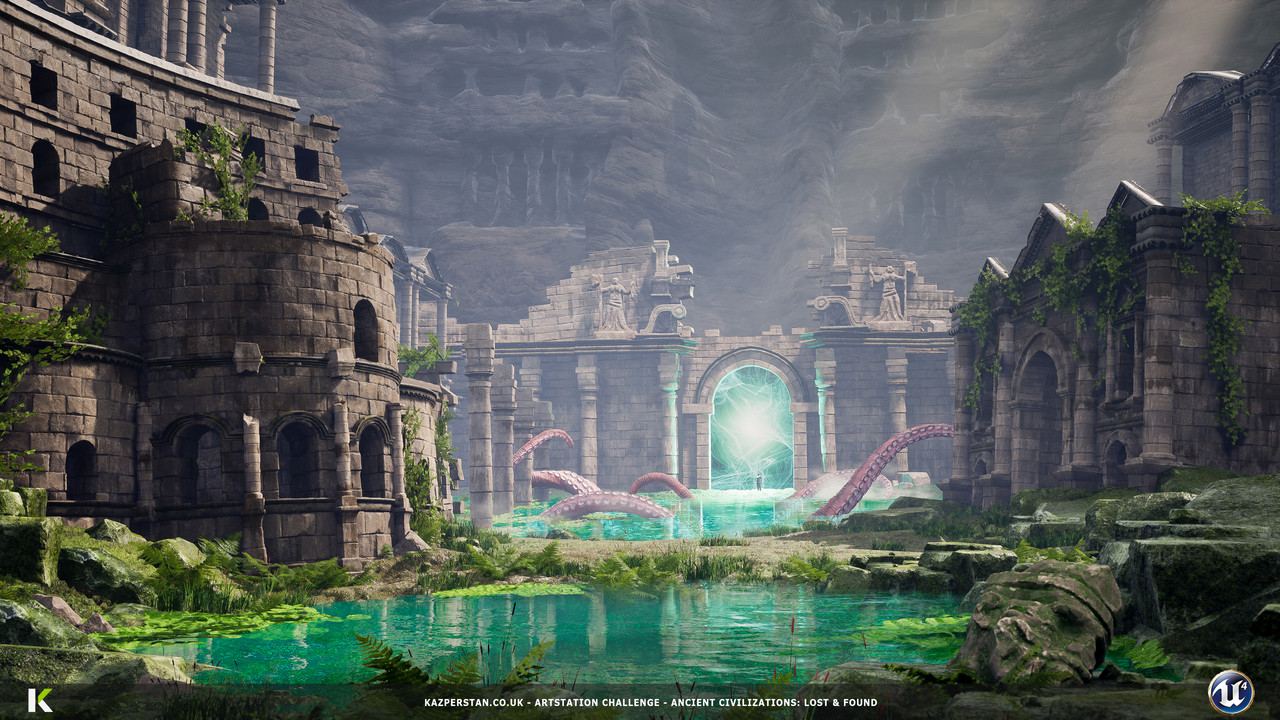 Honourable Mention Game Environment/Level Art: Jon Arellano
Randall Mackey: "This scene feel like the place where a character leaves a part of themselves behind, but exchanges it for a new better part, and they become empowered to face the challenges ahead! Really awesome lighting and mood!"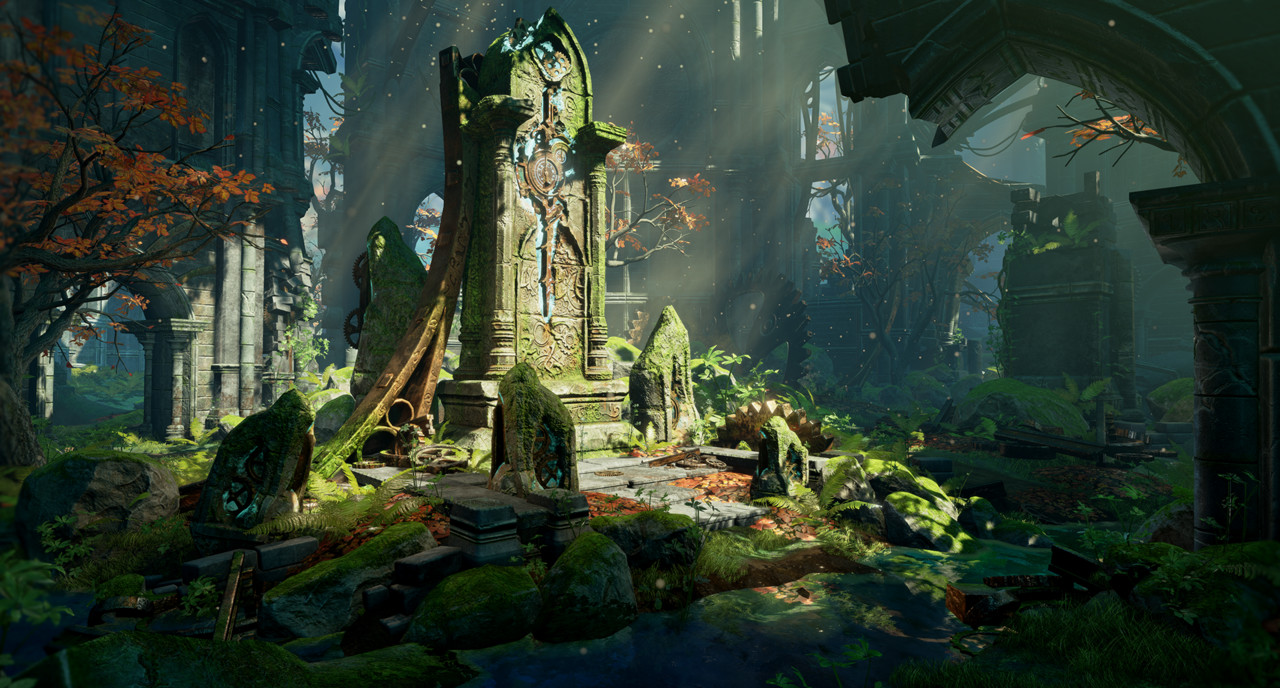 Honourable Mention Game Environment/Level Art: Anthony Trujillo (Original concept: Лена Доронина)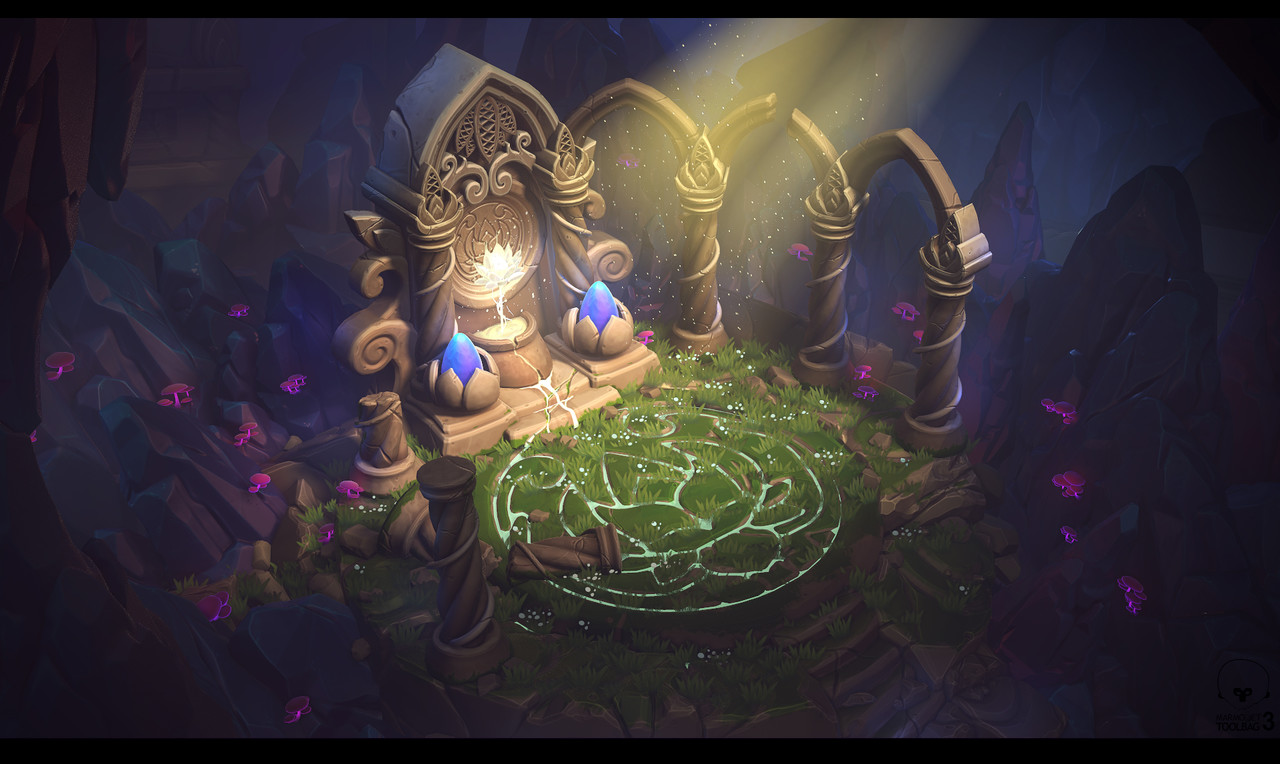 Honourable Mention Game Environment/Level Art: Timothy Dries (Original concept: Victoriya Anda)
Tiberius Viris: "Very good design and a consistent, stylized look. Make sure to check his fly-through video!"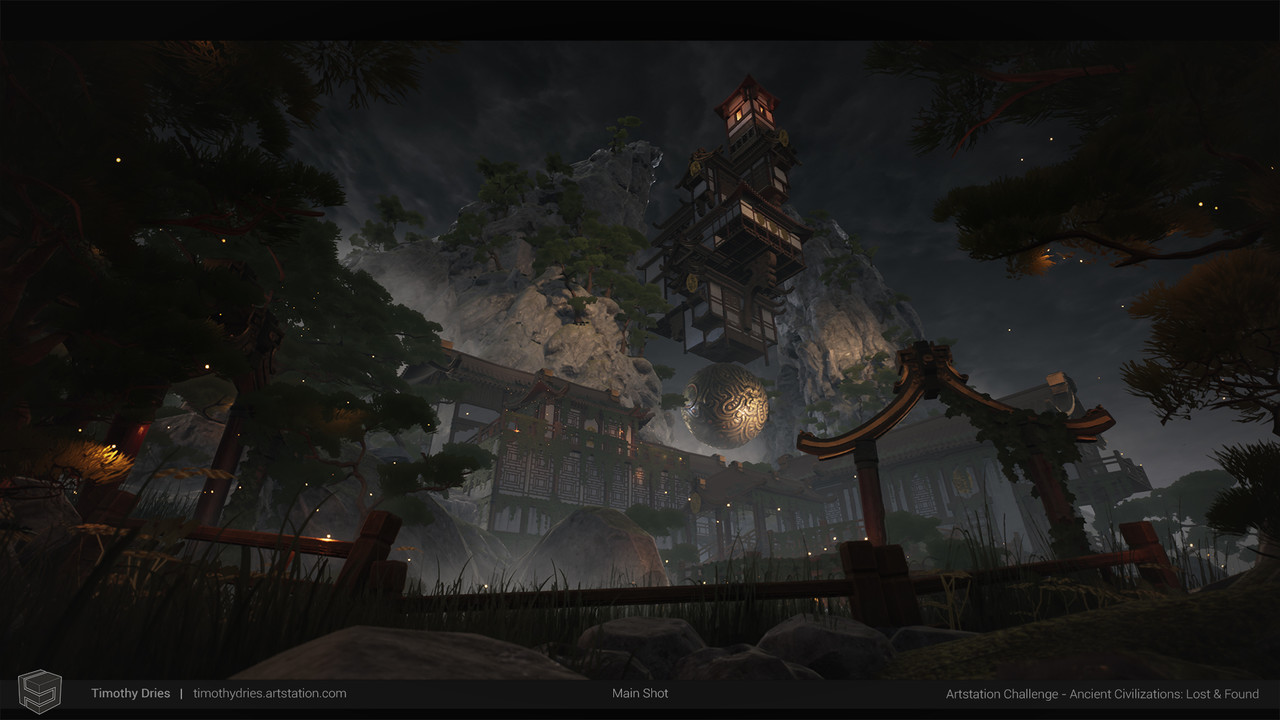 Honourable Mention Game Environment/Level Art: Yeghor Gallagher (Original concept: Jan Sarbort)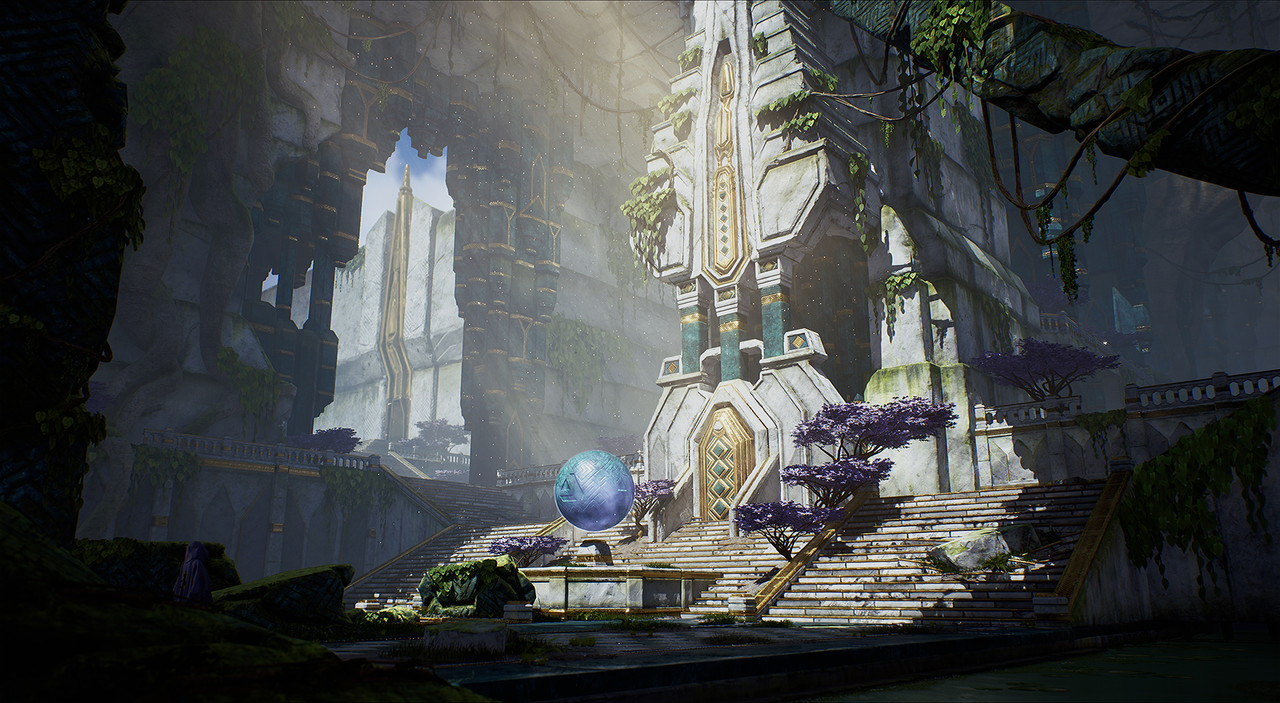 You can see all of the entries for the Ancient Civilization Challenge here:
---