Illuminating a 2D Illustration in Procreate with Julia Körner
Are you looking to improve your 2D lighting skills? On ArtStation Learning, join Julia Körner for a lesson on important lighting principles with an original Procreate illustration demonstration.
Illuminating a 2D Illustration in Procreate

For this interview we asked Julia about the backstory behind her course's magical forest scene. She also shared how her artistic interests are continuing to fuel her own learning journey!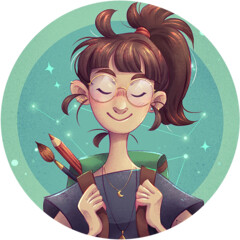 Like many artists, Julia Körner has drawn since she could first remember. She began her journey as a professional artist with a focus in illustration about three years ago after finishing her Master of Arts in communication design. Currently, she works as a freelance illustrator and visual development artist for games, children's books, magazines, and other private commissions. She also works on her own creative projects.
---
Behind the course:
I think this course will help everyone who struggles to set specific lighted moods. You'll learn how to make a night scene without feeling too dark or cold, and learn about light and glow effects.
When you enjoy what you are doing, it's harder to stop doing it than to sit down and start. That's why magical lighted scenes and illustrations are something that come up in different versions in my portfolio and illustration projects. It's something that I enjoy drawing. I think if you are interested and passionate about something it's easy to spend hours learning and practicing it. That's the way to become specialized in something without making it hard for you, regardless of what subject it is.
What was the inspiration for your course's magical scene?
I wanted to draw a picture that I love, so I choose things that I like and make me happy. Nature is always a nice calming topic for me. For a year I had these little nature spirits I drew from time to time as a relaxing drawing exercise, but I never put them into a bigger scene with more storytelling.  So, I came up with the idea of a faun girl encountering one little lost nature spirit glowing in the moonlight, and the other nature spirits watching from the plants. To find inspiration, it's always good to draw what you personally like and see where that brings you.
Most memorable learning experience?
I didn't go to a specific art school, I in fact studied communication/graphic design. The most memorable and valuable learning experiences from this were the intensive weekend workshops from Beatrice Blue and Dani Diez. They are both a huge inspiration to me as artists.
Favourite Procreate feature?
It's hard to pick one since I love the super intuitive user interface. In the last month I've really enjoyed the QuickShape tool, Perspective Guide, and Drawing Assist a lot. They come in really handy for complicated perspectives and architecture scenes.
1 sentence of advice:
Don't be too hard on yourself. Art is an endless learning process and the important part is to keep the fun and magic.
---
Visit Julia's ArtStation portfolio here.
Read more ArtStation Learning content here.
---