Riot Games League of Legends: Soul Fighter Art Blast
Hello ArtStation Community!
Suit up, flex your muscles, and release your inner strength: the time has come for Soul Fighter!
We love fighting games. We love a good Tournament Arc. This is League of Legends' love letter to both. In the universe of Soul Fighter, champions the world over gather to compete in the tournament of lifetime—armed only with their souls and a promise that the winner will receive their deepest desire. And that's the whole story! Pay no heed to the mysterious God's Eye, there is no reason to question its motivations.
Soul Fighter is a new universe for us to explore and we knew that if we wanted to make a splash, the art had to be striking. Characters couldn't just be strong, their muscles needed to be chiseled out of iron. VFX couldn't just be colorful, they had to be graphic and hit like a fist to the teeth. Designs with a single belt? Sorry, but this club has a twenty belt minimum. When players first saw Soul Fighters out on the rift or in the Arena, we wanted them to be instantly recognizable with a cel-shaded style that felt true to our source material but didn't over-index on the feeling of ink and paint.
We found Soul Powers to be an excellent canvas for our artists to let loose. Because Soul Fighters brawl with manifestations of their own soul, each one had to represent the personality and passion of the wielder. Our team spent hundreds of hours perfecting the luminescent expression of our Champion's Soul Powers, imbuing each with a strong identity defined by bright, colorful flames wrapped with a striking dark accent.
Soul Fighter is a monumental event brought to players through the heroic efforts of hundreds of developers. It takes a global team of artists leveraging talents across many disciplines to create an experience this special. Thank you to everyone that put a piece of their own soul into Soul Fighter!
Please enjoy this small peek behind the curtain!
Ben Skutt
Art Director, Riot Games
Art Direction

DEN – Art Director – Riot Games – League of Legends: Soul Fighter

DEN – Art Director – Riot Games – League of Legends: Soul Fighter
Concept Artists
Character Artists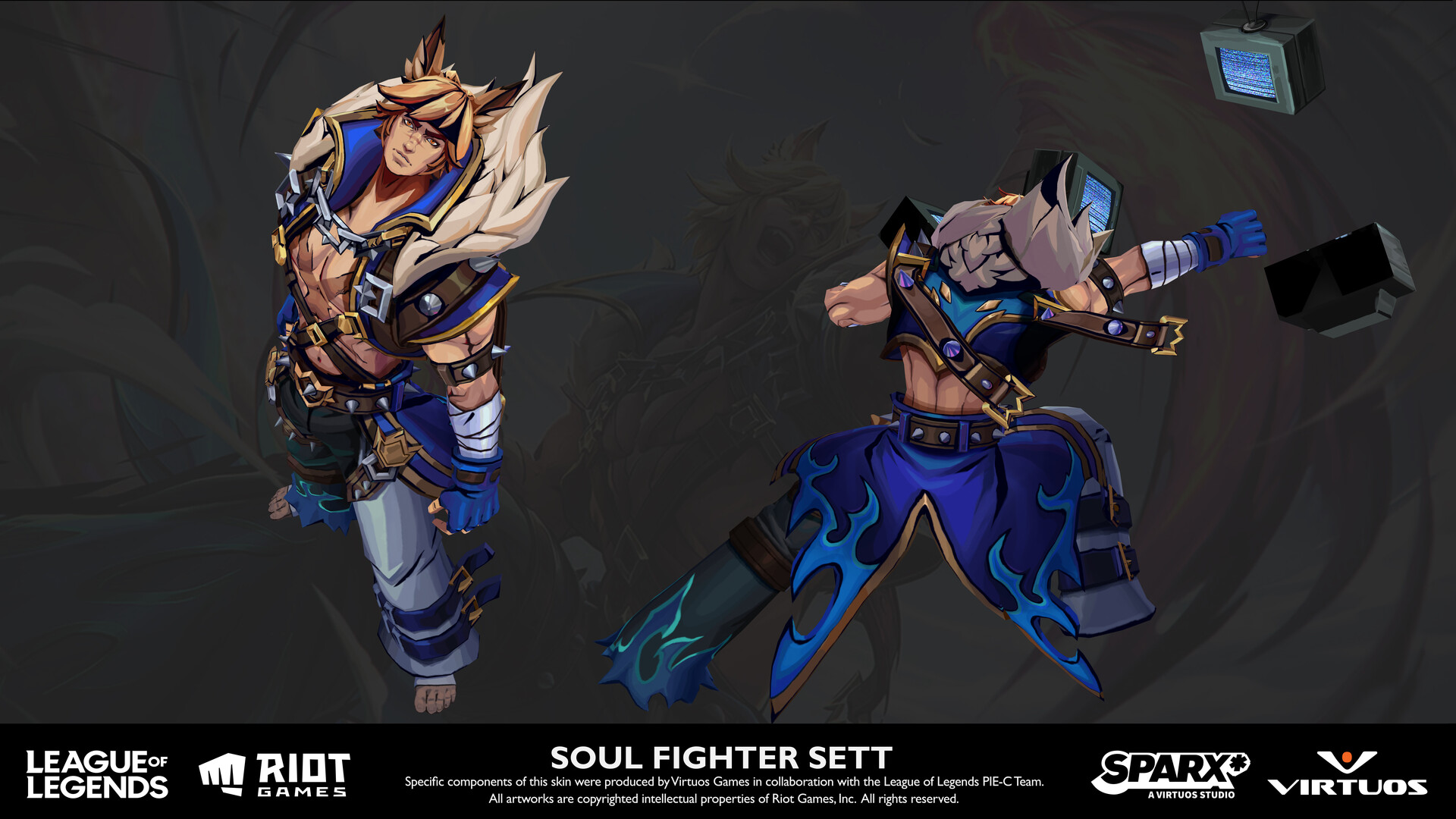 Sparx* – Skin Production Studio – Sparx* – a Virtuos Studio – League of Legends: Soul Fighter

Sparx* – Skin Production Studio – Sparx* – a Virtuos Studio – League of Legends: Soul Fighter

Fireball Studio – Character Sprite Studio – League of Legends: Soul Fighter

Fireball Studio – Character Sprite Studio – League of Legends: Soul Fighter
Illustrators
3D Artists
Environment Artist
Visual Design Artists
Motion Graphics Artist

Tammy Wong – Motion Graphics – Riot Games – League of Legends: Soul Fighter

Tammy Wong – Motion Graphics – Riot Games – League of Legends: Soul Fighter

Tammy Wong – Motion Graphics – Riot Games – League of Legends: Soul Fighter
VFX Artists

Mike Barquero – VFX Artist II – Riot Games – League of Legends: Soul Fighter

Mike Barquero – VFX Artist II – Riot Games – League of Legends: Soul Fighter

Mike Barquero – VFX Artist II – Riot Games – League of Legends: Soul Fighter

Jonathan Shishido – VFX Artist I – Riot Games – League of Legends: Soul Fighter

Jonathan Shishido – VFX Artist I – Riot Games – League of Legends: Soul Fighter

Jonathan Shishido – VFX Artist I – Riot Games – League of Legends: Soul Fighter
Animators

Jerry Yang – Animator – Kudos – League of Legends: Soul Fighter
---