Riot Games League of Legends: Anima Squad Art Blast
Hi ArtStation!
Time for another League of Legends Art Blast from the Skins Team!
Bounce with me into a near-distant future where a derelict Earth sucked dry of its natural resources and ravaged by natural disaster is on the precipice of destruction. To survive, the last vestiges of civilization band together in a single metropolis, Final City. Once sequestered in their walled city, they now face the death knell from a new threat, the Primordians. For millennia, this high-tech civilization lived on the ocean floor, anticipating one final chance to eliminate those that dwell above–now is their chance to deal the final strike of extinction. Who will stop them?
Enter: Anima Squad! These superpowered vanguards clad in repurposed Primordian technology tenuously stand united as humanity's last hope. . .
Thank you for joining us as we celebrate, and showcase, the creation of another world and universe for League of Legends! In creating this dystopian world we wanted to juxtapose despair with hope; apocalyptic wastelands with beauty; cruel invading forces with an infusion of adorable little animal buddies; and the seemingly imminent destruction of humanity with heroics and unity.
With so many dark and heavy things happening globally we wanted players to experience some of their favorite champs as fun, sleek, beautiful, relatable, and edgy versions of themselves, with a hefty dash of the adorable as a common throughline in the champion designs.
To the awe-inspiring ArtStation community: as you take a look behind the scenes, I hope you enjoy and have a good chuckle about the mash-up of contradictory elements, and glean new artistic learnings and approaches to problem solving as you peruse this wonderful art.
Thank you again!
Brian Vinton
Art Director, Riot Games
Art Direction
Concept Artists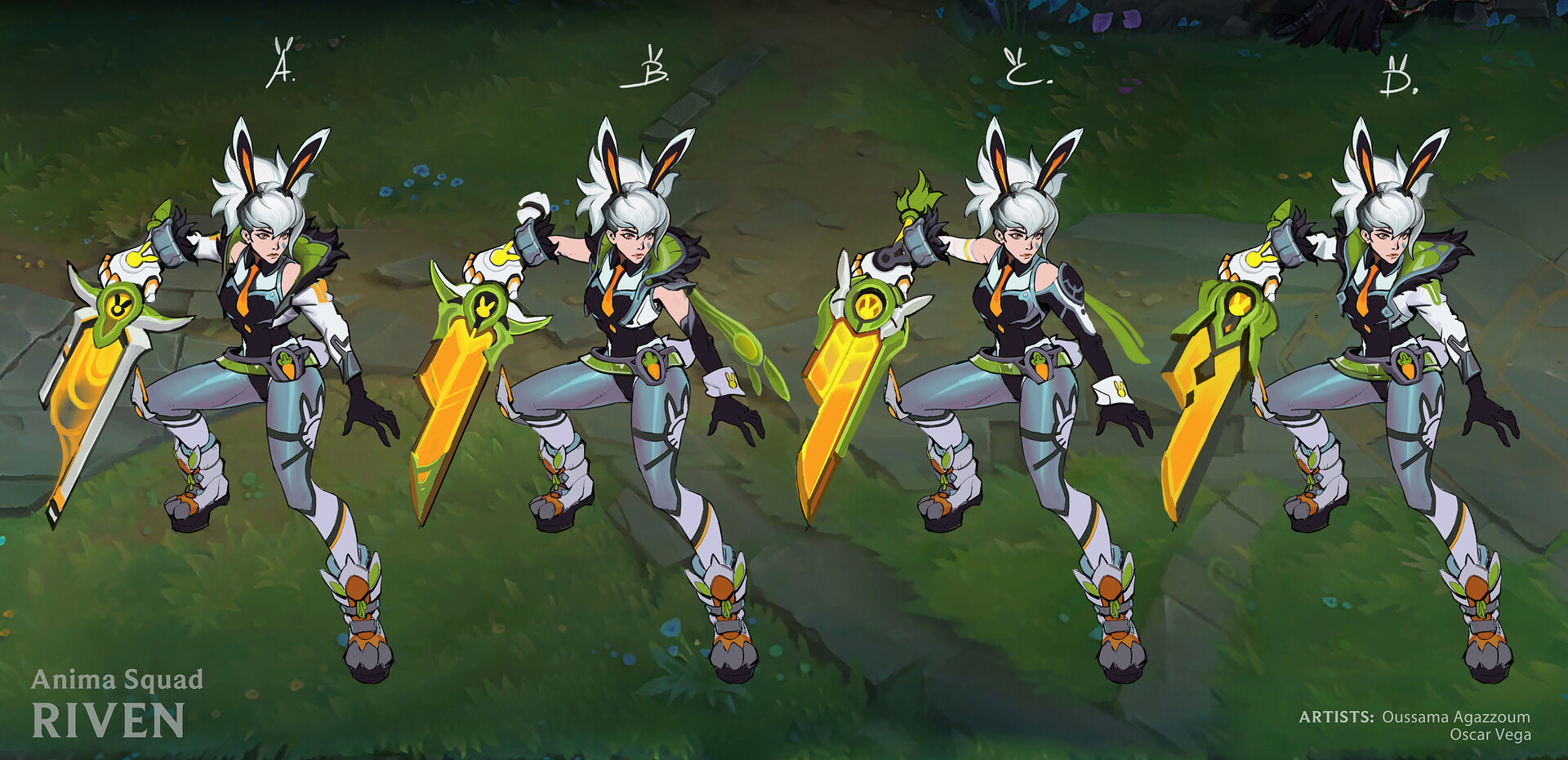 Illustrators
Character Artists

Kevin Jones – Character Artist – Riot Games – League of Legends: Anima Squad

Kylie Gage – Character Artist – Riot Games – League of Legends: Anima Squad
Animators
VFX Artists

Kristy Doan – VFX Artist – Riot Games – League of Legends: Anima Squad

Kristy Doan – VFX Artist – Riot Games – League of Legends: Anima Squad

Kristy Doan – VFX Artist – Riot Games – League of Legends: Anima Squad

Kristy Doan – VFX Artist – Riot Games – League of Legends: Anima Squad

Kristy Doan – VFX Artist – Riot Games – League of Legends: Anima Squad

Kristy Doan – VFX Artist – Riot Games – League of Legends: Anima Squad
---